Korean Bulgogi Beef Stew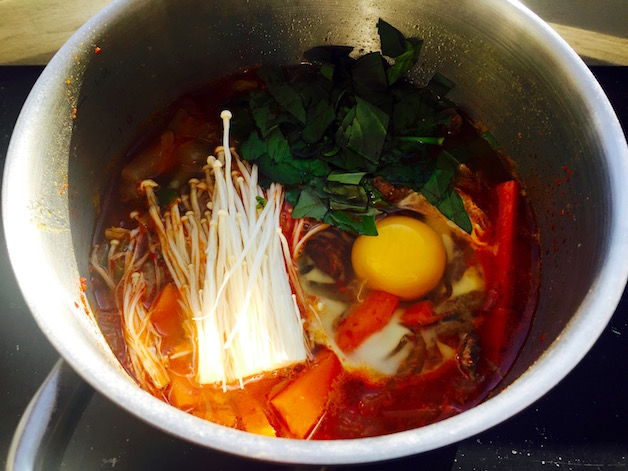 This changed my life. I'm not being overdramatic here- it changed my life. The original stew should be cooked in an earthenware pot (ttukbaegi). The day that I went to cook this, I actually FOUND such an earthenware pot. On top of the world, I hauled it home- only to realize that it doesn't really work with an electric stove.
Crushed, I made the stew in a regular tiny pot and ate it directly from there.
I was so in love, I made it for myself on a Saturday night in, and again for breakfast on Sunday morning. I have craved it every day since.
It's from Maangchi- and I highly recommend you go directly to her website and watch the video because it's great and it really makes your mouth water.
There is also a vegetarian version with oyster mushrooms, which is equally as delicious and easy.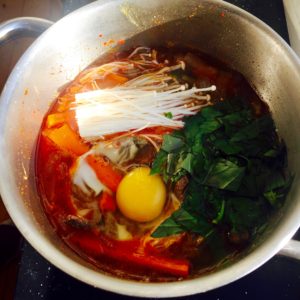 Korean Bulgogi Beef Stew
2017-01-28 02:18:56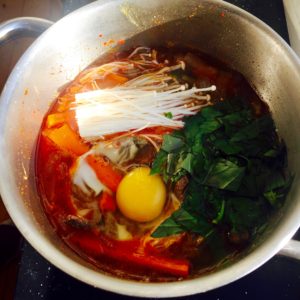 Serves 2
Ingredients
8 ounces beef skirt steak (or tenderloin, any tender cuts of beef), sliced thinly (For those living in Brussels, I go to Marks & Spencers and buy the pre-cut beef slices they keep in the stir fry department.)
1 tablespoon soy sauce
2 garlic cloves, minced
2 teaspoons sugar
2 teaspoons honey
¼ teaspoon ground black pepper
1 teaspoon sesame oil
1 ounce starch noodles (dangmyeon), soaked in cold water 30 minutes to 1 hour
2 cups water or chicken broth
½ teaspoon fish sauce
½ teaspoon salt
1 ounce (¼ cup) onion, sliced
1 ounce (¼ cup) carrot, cut into matchsticks
2 ounces large green onion (or 2 green onions), sliced diagonally.
1 ounce (about 1/3 cup) Enoki mushrooms
1 ounce (about ½ cup) spinach or basil leaves.
¼ cup worth radish sprouts
Spicy mixture (optional, for a spicy version): 2 teaspoons hot pepper flakes mixed with ½ teaspoon sesame oil in a small bowl.
Instructions
Combine soy sauce, garlic, sugar, honey, ground black pepper, and sesame oil in a bowl. Mix it well until the sugar is dissolved. Add the beef and mix well to marinate. Cover and refrigerate.
30 minutes before you are ready to cook, soak your starch noodles in water.
When you are ready to cook, place a small pot on the stove with 2 cups of water or chicken broth, salt, and fish sauce. Bring to a boil.
When it starts boiling, add the beef, onion, carrot, and the large green onion. Let it cook without the lid for about 10 to 12 minutes over high heat. Stir it a few times and remove any foam from the surface with a spoon.
Add the noodles, stirring a few times, and cook for 1 minute. Add Enoki mushrooms and radish sprouts and cook for a few minutes. Crack an egg and put it in the center of the bubbling stew. Garnish with the chrysanthemum greens and the red chili pepper.
Remove from the heat and serve with rice, kimchi, and a few more side dishes. If you want the spicy version, put some of the spicy mixture into the stew and mix it in.
If you want to make this vegetarian, you can use oyster mushrooms instead of the beef. Follow the same recipe, except leave out he fish sauce and increase the salt to 1 teaspoon (from ½ teaspoon).
Victoria's Kitchen http://kitchenbyvictoria.com/