Lentil Soup with Sweet Potato & Farro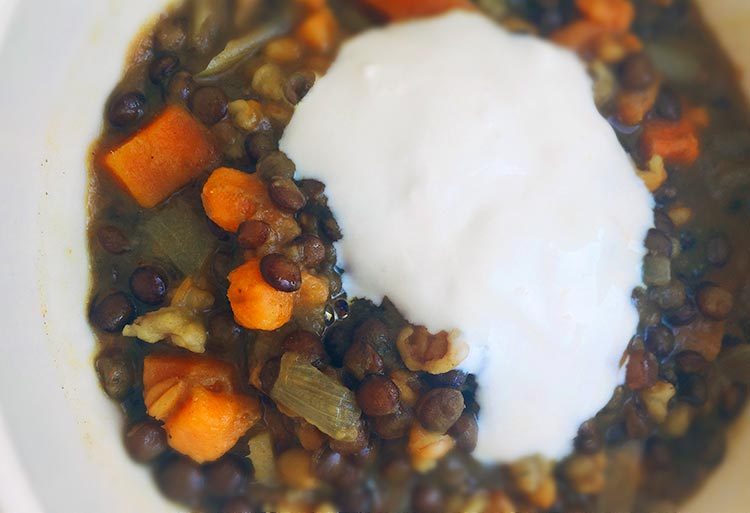 This is hearty and delicious, and comes from one of my favorite cookbooks, Super Natural Every Day by Heidi Swanson.
It should be noted that it's topped with a salted lemon yogurt that is an out of this world combination with the deep flavors of the soup.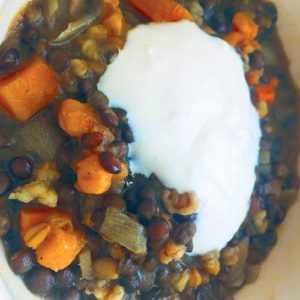 Lentil Soup with Sweet Potato & Farro
2016-09-18 13:41:13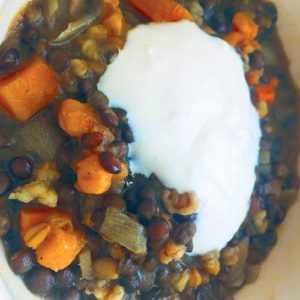 Serves 6
Ingredients
Splash Extra Virgin Olive Oil
2 Large Onions, Chopped
1 Cup/125g peeled and diced sweet potato
1 tbsp plus 2 tsp Indian Curry Powder
2/3 cup/125g whole or semi-pearled farro
1 ¼ cups /255 g green or black lentils, rinced
7 cups broth or water
1 cup greek yogurt
Grated zest and juice of ½ lemon
Instructions
Head the oil in a large soup pot over medium-high heat. Stir in the onions and the sweet potato. Add a big pinch of salt, and sautee until the onions soften (a few minutes). Add the curry powder and stir until the vegetables are coated and fragrant.
Add the farro, lentils, and broth. Bring to a boil, decrease to a simmer, and cook covered for 50 minutes, or until the farro is cooked through. Taste and season with more salt.
While the soup is cooking, mix the yogurt with a large pinch of sea salt and the lemon zest and juice.
Serve each bowl topped with the lemon yogurt, and a drizzle of olive oil.
Adapted from Super Natural Every Day
Victoria's Kitchen http://kitchenbyvictoria.com/