Merguez Meatballs with Pearl Couscous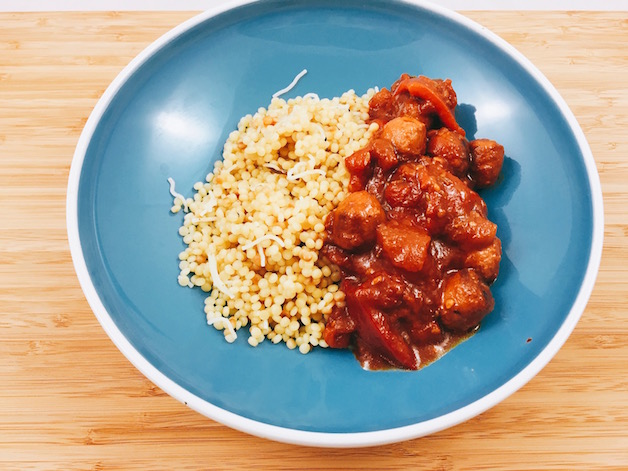 This was so yum and so easy.
It's a such an easy shortcut to make the meatballs out of sausages, and they turn out really juicy and delicious.
I put this on pearl couscous and vermicelli, but you can also eat it with some bread, or on rice or even pasta.
You can't lose with Nigella! The recipe is from her book Simply Nigella, given to me by my Bibs <3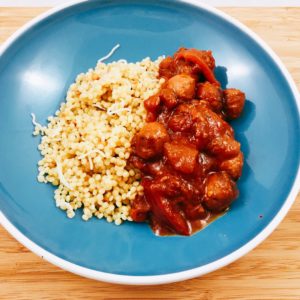 Merguez Meatballs with Pearl Couscous
2017-02-16 16:26:44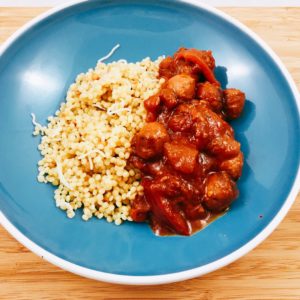 Serves 3
Ingredients
500g Merguez sausages
2 x 15ml tablespoons regular olive oil
1 x 400g can chopped tomatoes
1 x 290g jar chargrilled peppers in oil
2 teaspoons cumin seeds
1 teaspoon ground allspice
1 teaspoon ground cinnamon
2 teaspoons sea salt flakes
1 x 15ml tablespoon runny honey
1 cup of pearl couscous
A handful of vermicelli
2 ¼ cups water
Instructions
Squeeze the sausagemeat out of the casings and then form into small meatballs, using about 2 teaspoonfuls per ball. I get 34 out of this mixture, but I have to concentrate on not making the meatballs bigger as I go – they should each be about the size of a cherry tomato.
Heat the oil in a wide, heavy-based saucepan or casserole (with a lid), and fry the meatballs for about 3 minutes or so, then spoon out as much excess oil as you can and discard.
Add the chopped tomatoes, then drain the jar of peppers and snip or chop them into pieces, before adding to the pan as well.
Sprinkle the spices over the contents of the pan, add the salt and – oiling the tablespoon first – the honey, then bring up to a bubble before partially covering the pan with its lid and leaving to simmer for 10 minutes.
While the meatballs bubble away, toast the pearl couscous and vermicelli in olive oil for about 10 minutes, stirring when needed to avoid it burning. When golden brown, add the water, and bring to a boil.
Once boiling, cover the pot and turn it down to a simmer for 10 minutes, or until all the water is absorbed.
Adapted from Simply Nigella
Victoria's Kitchen http://kitchenbyvictoria.com/