Mexican Broth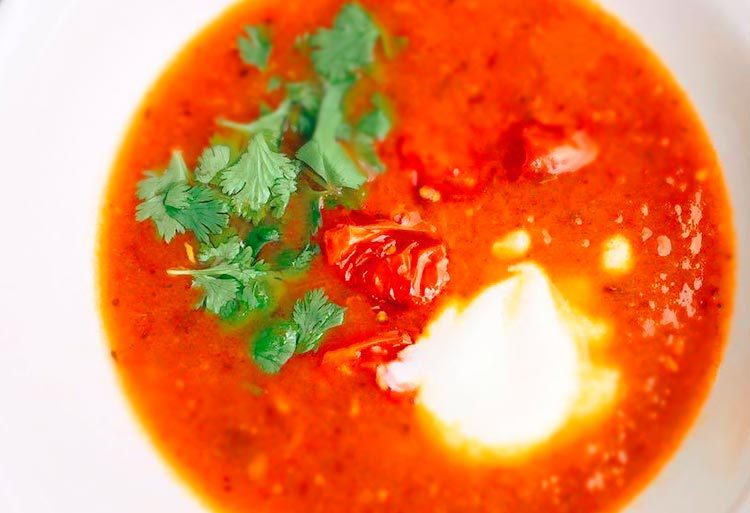 It is universally recognized that broth heals all. If you are not yet convinced of this, please read Nourishing Traditions by Sally Fallon. You will start drinking broth all day every day.
If you can, make this soup with homemade chicken broth. If not, just make it with some organic bouillon. The problem with the cheap bouillon cubes is that everything you make tastes the same. You're better than that.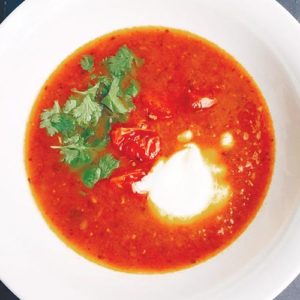 Mexican Broth
2016-05-19 14:19:44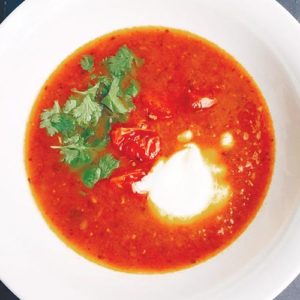 Serves 4
Ingredients
20 small cherry tomatoes
Extra virgin olive oil
Sea salt
3 cloves of garlic, chopped
1 large white onion, chopped
2 tsp ground cumin
2 tsp ground coriander
1 tsp cayenne
1 dried ancho chile
1 tbsp oregano
1 can crushed tomatoes
6 cups vegetable broth
1/2 cup sour cream
1/2 cup coriander, washed and chopped
Instructions
Chop the tomatoes in half and douse in olive oil and sea salt. Pop them in the oven (on a baking tray covered in aluminum foil) for 40 minutes at 350f/175c.
In a pan on the stovetop, sauté the onions and garlic. When softened, stir in the spices. Stir around for a minute or two until fragrant and add the can of tomatoes.
Let it bubble away for a bit (5 minutes or so), before adding the broth. Add salt and pepper to taste.
Simmer until the tomatoes are done.
When done, serve topped with chopped coriander, the oven roasted tomatoes, and a dollop of sour cream.
Victoria's Kitchen http://kitchenbyvictoria.com/