Mirin Glazed Salmon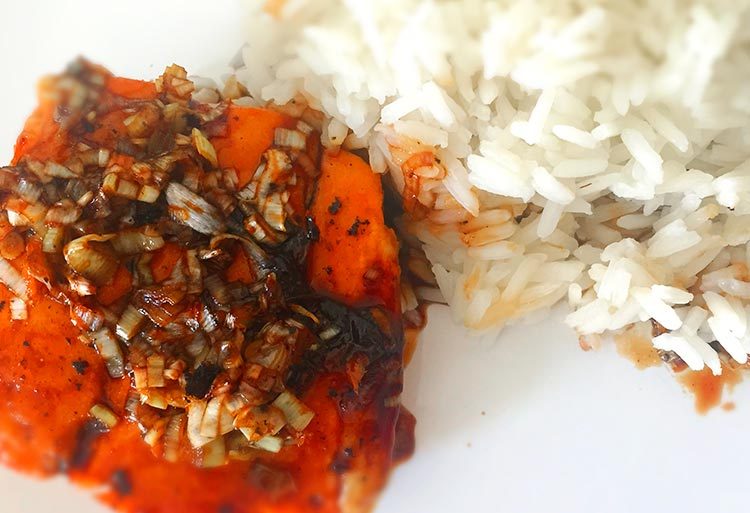 Yum. Thanks Nigella. This is easy, fast, and delicious. To find the mirin and rice vinegar you may need to visit a specialty Asian food grocery store.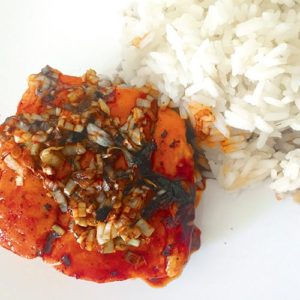 Mirin Glazed Salmon
2016-07-25 04:44:29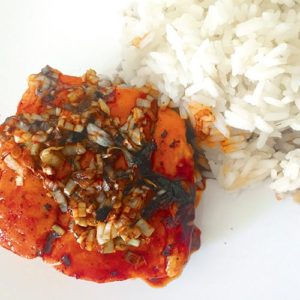 Serves 4
Ingredients
60ml/4 tbsp mirin (Japanese sweet rice wine)
25g/2 tbsp light brown sugar
60ml/4 tbsp soy sauce
Pinch of powdered ginger
4 salmon filets
2 tablespoons rice wine vinegar
1 - 2 spring onions, sliced
Rice- 4 portions
Instructions
Cook the rice according to package instructions.
If you are making a green side like broccoli throw it into the pan now.
Mix the mirin, brown sugar and soy sauce in a shallow dish that will take all 4 pieces of salmon, and marinate the salmon in it for 3 minutes on the first side and 2 minutes on the second. Meanwhile heat a large non-stick frying pan on the stove.
Cook the salmon in the hot, dry pan for 2 minutes and then turn the salmon over, add the marinade and cook for another 2 minutes. Sprinkle with a pinch of powdered ginger.
Remove the salmon to whatever plate you're serving it on, add the rice vinegar to the hot pan, and warm through.
Put the rice on the plate, topped with the salmon, and pour the on top, together with the spring onion strips.
Adapted from Nigella Lawson
Victoria's Kitchen http://kitchenbyvictoria.com/
It's a great weeknight meal because it's ready in 15 minutes maximum (that's mainly to take into account the time to cook the rice. I'd suggest serving with a side of salad or if you have the energy a bit of stir-fried broccoli (garlic and olive oil is enough, the salmon is flavourful so you don't need to overcompensate with your sides).