Miso Tahini Soup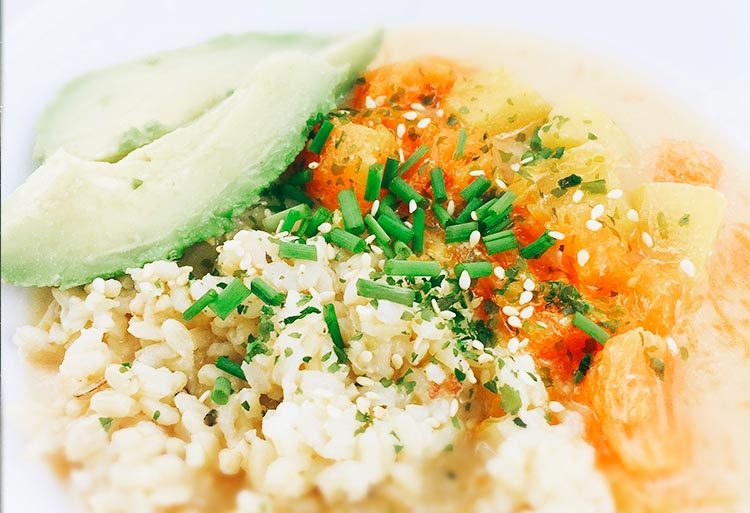 This soup is so special. It's got a nutty flavor from the tahini, combined with an unusual salty and deep flavor from the miso.
Then we layer onto this the surprisingly complementary combination of sweet squash and bitter turnips.
And the fixins make it really exciting. So many combinations. Everyone can personalize their bowl!
If you don't already own a nori or seaweed sprinkle, invest in one now.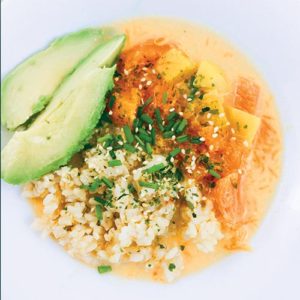 Miso Tahini Soup
2016-10-17 12:47:11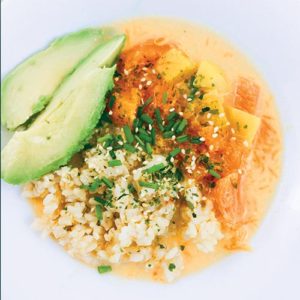 Serves 4
Ingredients
1 small-medium delicate or kabocha squash, or in a pinch you can use a pumpkin (seeded and sliced into small chunks)
3 small turnips, peeled and cut into 3/4-inch pieces
4 cups water
4 tablespoons white miso, or to taste
1/4 cup tahini
zest of one lemon
3 cups of cooked brown rice
For serving
1 avocado, sliced
1 bunch of chives, minced
Nori sprinkles
Toasted sesame seeds
Instructions
Add the squash and turnips to a large pot, cover with the water, and bring to a gentle boil. Simmer until the vegetables are tender, about 15 minutes. Remove the pot from the heat and let it cool just slightly.
Pour a few tablespoons of the hot water into a small bowl and whisk in the miso. Stir the thinned miso back into the pot along with the tahini, and lemon zest. Taste, and adjust the broth to your liking.
To serve, place a scoop of rice in each bowl along with some of the squash and turnips. Ladle broth over the vegetables, and finish with a few slices of avocado, a sprinkling of chives, toasted nori, and sesame seeds.
If you have leftovers and need to reheat the soup, do so gently over low heat, to preserve the nutritional qualities of the miso. It is a valuable fermented food so you need to treat it delicately!
Adapted from 101cookbooks
Victoria's Kitchen http://kitchenbyvictoria.com/