Mung Bean Stew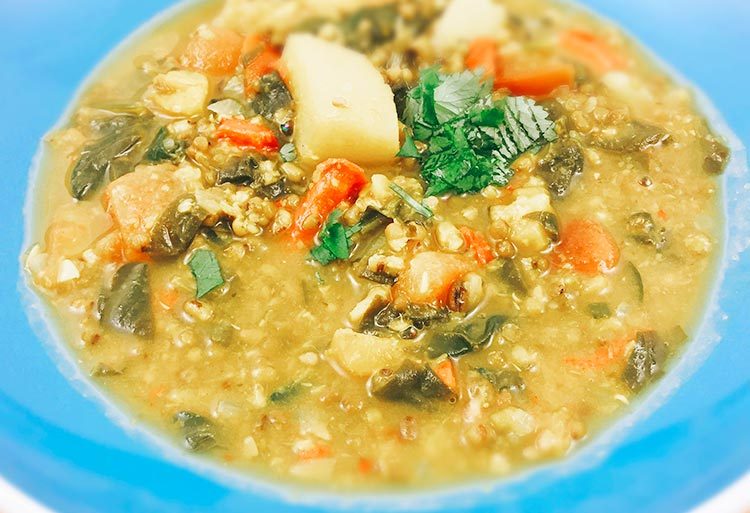 Mung beans are hugely neglected, in comparison with other peas, and often confused with beans or lentils.
They are in fact peas, with lentil-like qualities when cooked for longer periods of time.
This is great, and I realize it looks like a lot of things I cook… so sorry for that, I do love a lentil/bean/pea stew/daal/casserole!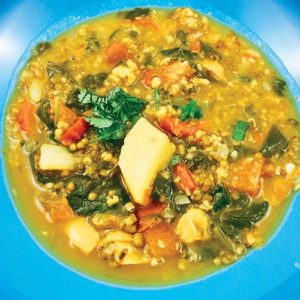 Mung Bean Stew
2016-11-23 15:16:59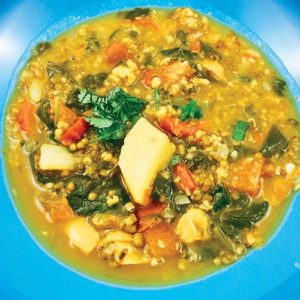 Serves 4
Ingredients
1 large tablespoon ghee or coconut oil
1 1/4 teaspoon ground cumin
3 garlic cloves
3/4 inch/2 cm cube of fresh ginger, peeled and chopped
1 chili
1 large onion, chopped
3 bell peppers (red and yellow, or any colors will be fine)
2 medium potatoes/or 3-4 small potatoes, peeled and chopped
1 teaspoon ground turmeric
2 cups mung beans, rinsed and picked over
4 cups vegetable stock
500g fresh spinach, washed and chopped
3-4 tomatoes, chopped
Juice of 2 limes,
Salt and pepper to taste
Chopped fresh cilantro/coriander to serve
Instructions
Heat the ghee or oil in a large pan, and throw in the cumin. Stir for a minute and then add the onion, garlic, ginger, chili, and peppers. Sauté until translucent and softened, stirring regularly.
Add the potatoes to the pan together with the turmeric.
After another minute or so, stir in the mung beans and the water. Bring to a boil and then turn down and let simmer for 45 minutes.
While it's cooking, chop your spinach and tomatoes, and juice the limes.
After it's cooked for 45 minutes, add in the spinach and tomatoes, and let cook for another 10 minutes.
Remove from the heat and pour in the lime juice, and add salt and pepper until the flavor really pops.
Serve sprinkled with fresh cilantro/coriander.
If you want this to serve more people, just put it over rice.
Adapted from The New Middle Eastern Vegetarian
Victoria's Kitchen http://kitchenbyvictoria.com/