Napa Cabbage Slaw with Ginger Dressing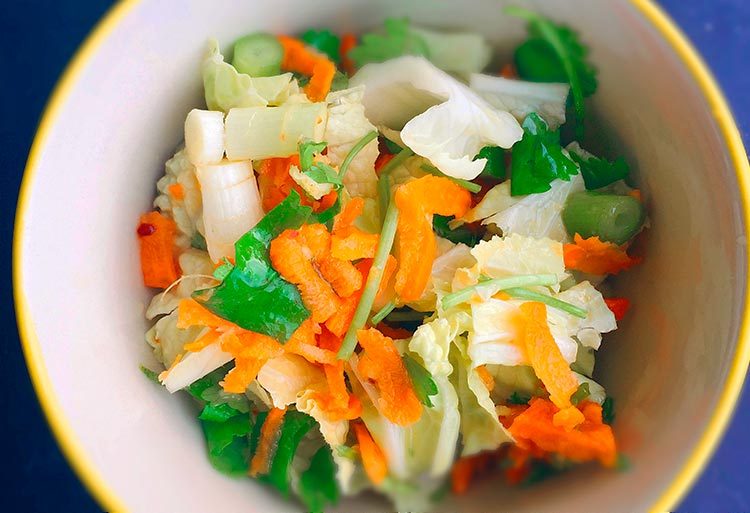 This is one of those recipes that is invented just because the ingredients were the last things in our fridge before a weekend away.
When this happens, and the stars align, a new recipe is born.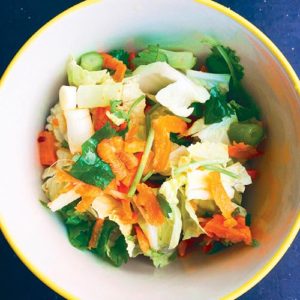 Napa Cabbage Slaw with Ginger Dressing
2016-09-18 13:42:56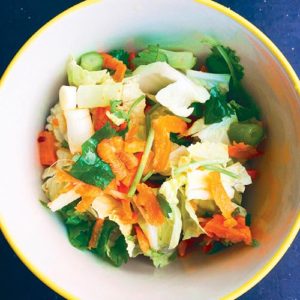 Serves 6
Ingredients
3 large spoonfuls rice vinegar
1 large spoonful sesame oil
1 large spoonful rapeseed or salad oil (any light oil designed for cold preparations)
1 1-inch cube ginger, peeled and grated
Grated zest of 1 lime
Fresh juice from 1 lime
A pinch of Aleppo chile
1 Half Napa cabbage, washed and chopped
1 1/2 cups grated carrots
4 scallions, sliced
1/2 cup chopped cilantro
Instructions
In a small bowl, whisk together rice vinegar, ginger, sesame oil, canola oil, lime zest, lime juice, and aleppo chile. Set aside.
In a different bowl, mix the cabbage, carrots, scallions, and cilantro.
Pour the dressing into the cabbage mixture and toss again. Let stand for 10 minutes, tossing occasionally.
Victoria's Kitchen http://kitchenbyvictoria.com/