Okonomiyaki: Japanese Frittata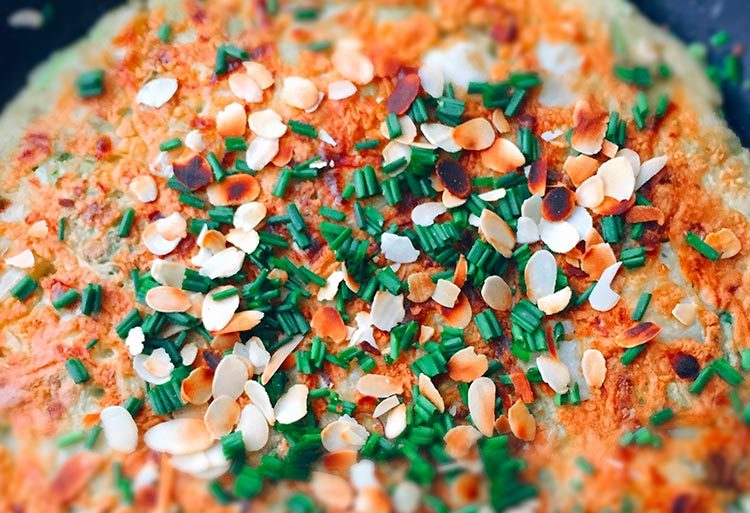 With such a short list of ingredients, and nothing too wild, you wouldn't think this could be as delicious as it is.
It's such a wonderfully easy weeknight meal, packed with protein from the eggs, and lots of nutrients from the leeks and cabbage.
Honestly, nothing naughty in it, and so so good.
Some people call it Japanese pizza, but I don't feel that really gives the right impression, and it's important that you have the right expectation when you try something new.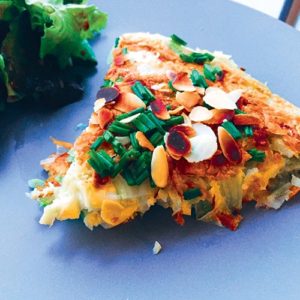 Okonomiyaki
2016-08-28 12:17:52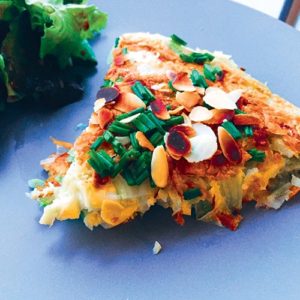 Serves 2
Ingredients
2 cups cabbage, finely shredded
1 cup leeks, well washed and chopped
2/3 cup flour
A few pinches of fine grain sea salt
2 eggs, beaten
A glug of olive oil
Garnish: toasted slivered almonds, chives/ herbs
Instructions
Combine the cabbage, leeks, flour, and salt in a bowl. Toss until everything is coated with a dusting of flour. Stir in the eggs and mix until everything is evenly coated.
Heat a large skillet over medium heat and add a generous splash of olive oil. Scoop the cabbage mixture into the pan, and using a metal spatula press it into a round pancake shape, flat as you can get it. Cook for 4-5 minutes, or until the bottom is golden. To flip the okonomiyaki, slide it out of the skillet onto a plate. Place another plate on top and flip both (together) over. If you need a bit more oil in your skillet, add it now, before sliding the okonomiyaki back into the skillet. Again press down a bit with a spatula and cook until golden on this side - another 3 -5 minutes.
When you are finished cooking, sprinkle with toasted almonds and chives, and slide it onto a cutting board to cut into wedges.
Enjoy STAT.
Adapted from 101cookbooks
Victoria's Kitchen http://kitchenbyvictoria.com/