Orzo Risotto with Zucchini & Tomato
This is one of the easiest ways to use up vegetables. In this case I actually used the leftover vegetable mix from [saffron vegetables and crispy rice], but you can use whatever fresh veggies you have on hand, or even frozen veggies in a pinch! Try pumpkin and sage, broccoli and sausage, or even frozen peas! The basic concept is cooking orzo pasta as you would risotto.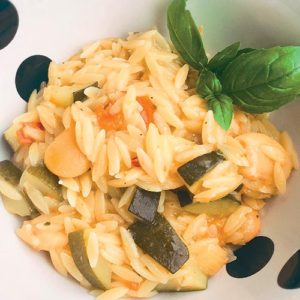 Orzo Risotto with Zucchini & Tomato
2016-05-09 14:46:28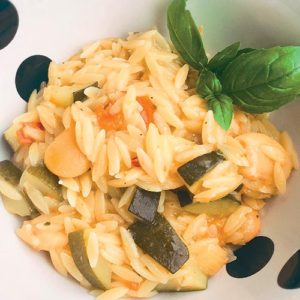 Serves 2
Ingredients
Half a package orzo pasta
About a cup of vegetables (your choice!), washed and chopped
Plenty of parmesan
2 cloves garlic
1 onion
Thyme
Splash of white wine
Broth
Instructions
Chop the onion and garlic, and sauté in olive oil with a bit of salt and pepper over medium heat.
Throw in the orzo, and continue to stir, until all the pasta is coated.
Stir for a few minutes, before adding a splash of white wine.
Continue to stir until the wine evaporates, and then add the vegetables.
At this stage add bit by bit the broth, and cook on a low heat. The more patient you are the better this will turn out. If you are starving and in a rush you can pour in plenty of broth and crank the heat.
Taste the pasta as you go, until it reaches your ideal texture.
Pull off the heat and throw a heap of parmesan in.
Mix up, and serve with additional parmesan to top.
Victoria's Kitchen http://kitchenbyvictoria.com/