Ottolenghi Soba Noodles with Aubergine & Mango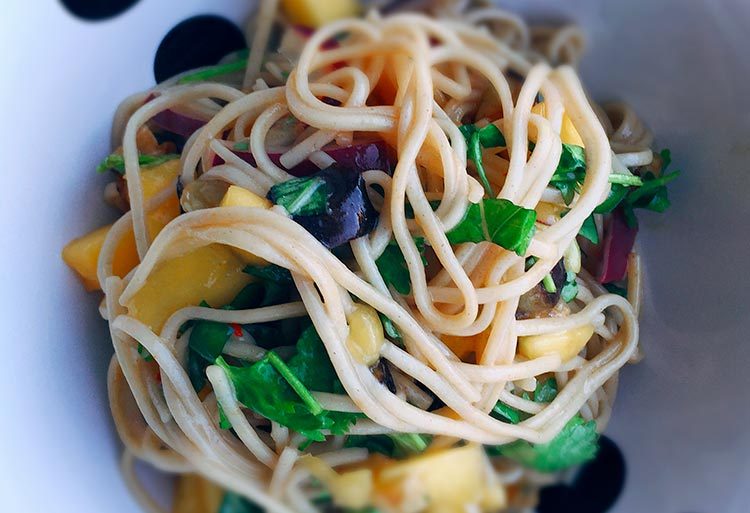 This recipe is just magic. Think- picnics. It's fresh and juicy from the mango, but salty and savory from the aubergine. Ottolenghi is such a genius.
Soba noodles are also way healthier than regular noodles.
Win win win.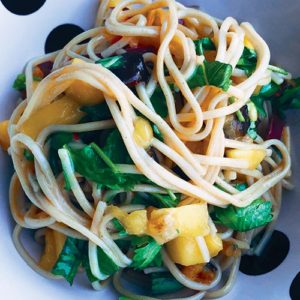 Ottolenghi Soba Noodles with Aubergine & Mango Recipe
2016-08-28 12:11:59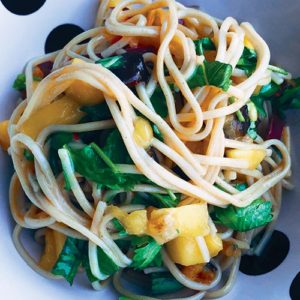 Ingredients
1/2 cup / 120 ml brown rice vinegar
scant 1/3 cup / 1.5 oz / 40 g fine-grain natural cane sugar or brown sugar
1/2 teaspoon fine grain sea salt
2 garlic cloves, peeled and crushed
1/4 teaspoon red pepper flakes or 1/2 fresh red chile, minced
1 teaspoon toasted sesame oil
grated zest and juice of one lime
1/3 cup / 80 ml sunflower oil or olive oil
1 medium eggplant/aubergine 3/4 lb / 12 oz, cut into 1/2-inch / 1cm chunks
8 ounces / 225g dried soba noodles
1 large ripe mango, cut into small chunks
1/2 medium red onion, very thinly sliced
a handful of basil leaves, slivered
a handful of fresh cilantro / coriander, chopped
Instructions
Bring a large pot of water to a boil.
In the meantime, make the dressing by combining the vinegar, sugar, and salt in a small saucepan over medium heat. Cook, stirring, for up to 1 minute, or until the sugar dissolves. Remove from heat and add the garlic, red pepper flakes or chile, and sesame oil. Allow to cool, then add the lime zest and juice.
Heat the sunflower oil in a large skillet and shallow fry the eggplant/aubergine in a few batches (you want it to cook in a single layer), until deeply golden. Transfer to a large plate lined with paper towels and sprinkle with a generous pinch of salt.
Cook the soba noodles in a large pot of boiling salted water, per package instructions, or until just tender. Drain and rinse under cold running water. Shake off as much of the excess water as possible, then leave to dry in the colander or on a tea towel. If you're not using the noodles soon, toss with a tiny splash of olive oil to prevent the noodles from sticking to each other.
In a large mixing bowl toss the noodles the dressing, mango, aubergine, onions, and most of the herbs.
Dig in!!
Adapted from 101cookbooks
Victoria's Kitchen http://kitchenbyvictoria.com/