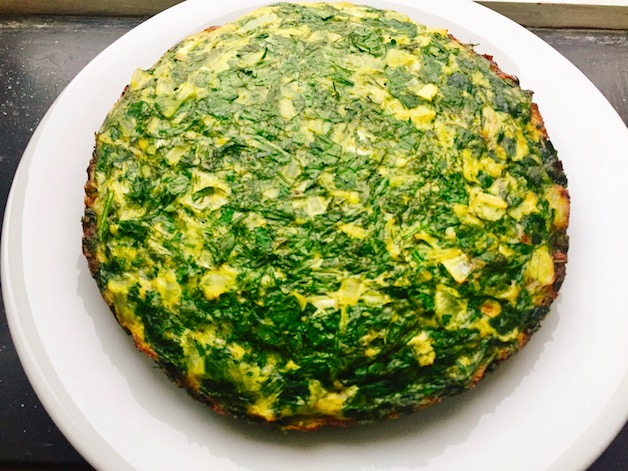 This is so herby and fresh, but filling. Great combined with a salad for a low (or rather NO) carb dinner!
The original recipe comes from Bon Appetit (link in recipe card), and there is a video on the website that you can watch if you like to watch recipe videos.
This dish is traditionally eaten on the Persian New Year, which you can read more about here. Apparently the new year is all about celebrating fresh herbs. Cheers to that, I love herbs!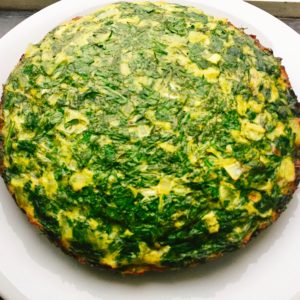 Kuku Sabzi (Persian Herb & Leek Frittata)
2017-07-15 03:21:02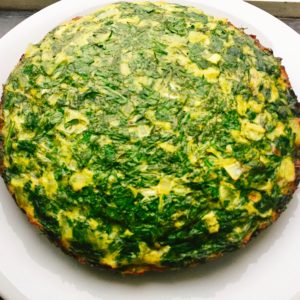 Serves 2
Ingredients
5 tablespoons vegetable oil, divided
1 medium onion, finely chopped
1 medium leek, white and pale-green parts only, finely chopped
5 large eggs
1½ teaspoons kosher salt
1 teaspoon baking powder
1 teaspoon freshly ground black pepper
½ teaspoon ground turmeric
1½ cups finely chopped cilantro
1½ cups finely chopped dill
1½ cups finely chopped parsley
Instructions
Heat 2 Tbsp. oil in a 10" skillet over medium. Cook onion and leek, stirring occasionally, until very soft but not brown, 10–12 minutes. Transfer to a plate and let cool. Wipe out skillet; set aside.
Whisk eggs, salt, baking powder, pepper, and turmeric in a large bowl. Using a rubber spatula, mix in onion mixture, cilantro, dill, and parsley. (Egg mixture should look thick and very green.)
Heat broiler. Heat remaining 3 Tbsp. oil in reserved skillet over medium. Pour in egg mixture; spread evenly across pan with spatula. Cover and cook frittata until bottom is just set, 8–10 minutes. Uncover and broil, watching carefully, until top is set, about 1 minute. Let cool slightly, then slide out onto a platter.
Adapted from Bon Appétit
Victoria's Kitchen http://kitchenbyvictoria.com/