Paneer Jalfreezi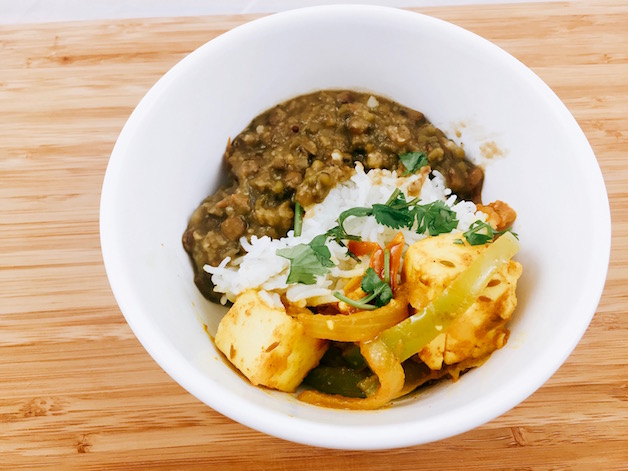 I'm a huge fan of Maunika Gowardhan, a brilliant Indian chef. I am also a huge fan, generally, of Indian food! I asked for plenty of Indian spices for Christmas and this year will be the year I really explore cooking Indian cuisine.
Don't imagine for a second that I won't be involving the slow cooker at a later stage.
We enjoyed this dish for a small ladies night with some close friends, and it was a wonderful night.
In the photo you'll see it's featured next to some daal. I sadly forgot what I did to make the daal so you'll never know, and neither will I.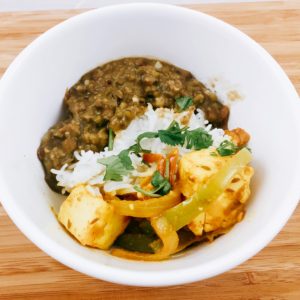 Paneer Jalfreezi
2017-01-28 05:52:01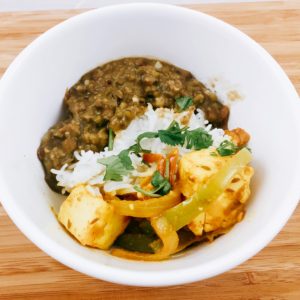 Serves 4
Ingredients
230gms paneer diced in cubes
3tbsp vegetable oil
1 tsp cumin seeds
1 medium onion thinly sliced
2 garlic finely chopped
1 tsp kashmiri chilli powder (or mild paprika)
1 tsp coriander powder
Pinch turmeric powder
1 medium green pepper thinly sliced
1 small tomato sliced
Salt to taste
1" ginger slivers for garnish
1 tbsp lemon juice
Fresh coriander for garnish
Instructions
First, put your rice on!
Then, heat the oil in a heavy bottom sauce pan. Add cumin seeds and sizzle for 30 seconds. Add the onions and fry for 2-3minutes on medium heat. As they begin to soften add the garlic paste and fry for a few seconds. Add all the spice powders and stir for a further minute. If the spices stick to the base of the pan add a splash of water.
Now add the peppers and mix with all the spices for 4-5 minutes. Add the tomatoes at this stage and cook until slightly softened. Now add the paneer cubes and stir well to coat with all the spices. Cook for a couple of minutes, season to taste. Add the ginger, lemon juice & garnish with fresh coriander.
Serve warm with naan,
Victoria's Kitchen http://kitchenbyvictoria.com/