Panko Crusted Scrod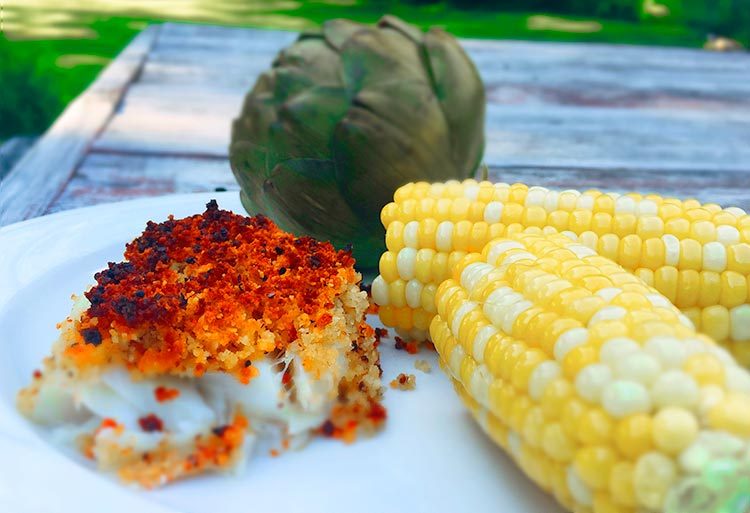 This is an amazing recipe, invented by my brilliant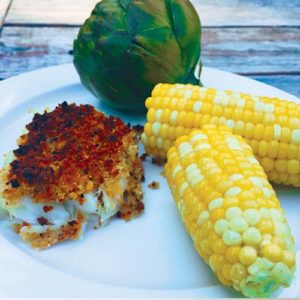 Panko Crusted Scrod
2016-07-02 19:45:56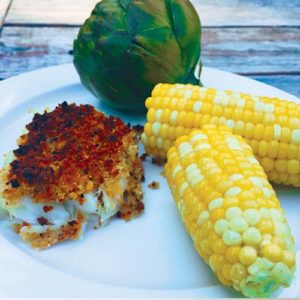 Serves 2
Ingredients
60g salted butter (US ½ stick)
1 small cup panko or other bread crumbs (try to find a thicker panko)
2 large spoonfuls whole grain mustard
500g/1lb scrod or cod
Southwestern spice mix (see notes below)
A sprinkle of mild chiles (If you can find them Aleppo, ancho, or Urfa, otherwise red chile flakes are ok)
Instructions
Set the oven to 450f/232c.
Mix the room temperature butter, panko and mustard in a bowl. You can add a bit of olive oil to loosen it up if needed. Add some salt and pepper.
Lay out the fish onto a baking sheet covered with aluminium foil, and sprinkle the Southwestern spice mix and a bit of the mild chile. Add salt and pepper to the fish as well.
Spread the panko mixture all over the fish in a relatively thick layer.
Bake for 10-20 minutes, depending on the thickness of your fish, or until done (test with a fork).
Serve with corn and artichokes or some other delicious sides!!
Notes
Note: (If you don't have a Southwestern spice mix on hand, stir up a pinch of each- oregano, cumin, chile, paprika, salt, coriander, pepper, garlic. If you have leftover put it into a tiny glass jar and use it the next time you make fish or chicken!)
Victoria's Kitchen http://kitchenbyvictoria.com/
mother. It is just. So. Good. We had it 6 months ago over the holidays and I couldn't stop thinking about it.
Scrod apparently means something different in different parts of the US. On the East Coast it refers to the Catch of the Day, Others say it's young cod, and some say it refers to any white fish.
The word scrod is allegedly derived from the now-obsolete Dutch word schrode, which means "a piece cut off," but I'm not sure if that helps us in our search for the truth about scrod.
To cut a long story short you can use cod or any other fresh white fish in this recipe.