Parsley-Tomato- Bread Salad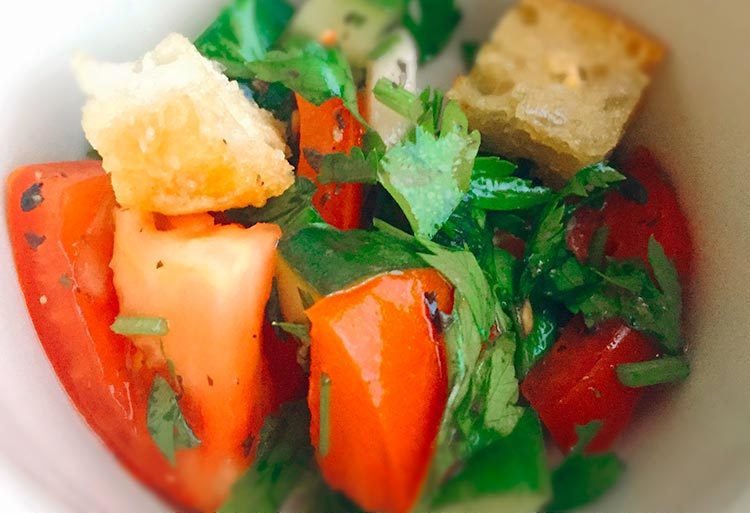 This recipe was created one day when I was having a crisis looking for something in between tabouleh, salad, and a slightly carby side.
This is actually nothing like Italian Panzanella, it's really a different beast.
What I think is so amazing about it is that there is no vinegar. You don't need it as long as you are using ripe and flavorful tomatoes.
You can serve in a variety of ways- with the croutons separately so everyone can top themselves- bonus- you can just sit around and eat croutons all night.
OR if you like having the croutons just a bit soft from the salad juices, add directly and serve as one dish.
I love when the bread cubes are still hot, so I choose to eat immediately. Regardless this isn't the type of dish that is delicious the next day. But I don't think you'll have anything to worry about.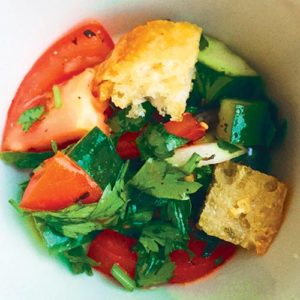 Parsley-Tomato- Bread Salad
2016-09-18 13:36:28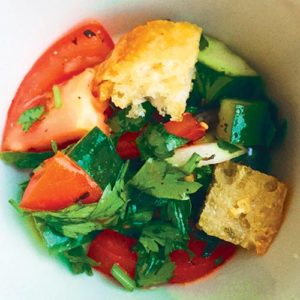 Ingredients
3 Very ripe tomatoes (get the tastiest ones), chopped into bite sized pieces
1 Cucumber, cut lengthwise in half, again lengthwise in half, and into tiny half moon shapes
1 bunch of parsley, washed and chopped
2 large slides of stale bread, cut into cubes (the same size as the tomatoes)
2 Cloves of garlic, crushed
A large glug of Extra Virgin Olive Oil
A large pinch of high quality salt
Instructions
Combine in a large bowl the tomatoes, cucumber, parsley, salt, and olive oil. Stir together and let sit at least 1 hour.
In the meantime, sauté the bread cubes in another glug of olive oil, and another pinch of salt. When they start to get crispy throw in the garlic. Stir until well browned, but do not burn the garlic.
Add the bread cubes to the salad, stir, and serve.
Victoria's Kitchen http://kitchenbyvictoria.com/