Peanut Rice Noodles with Cucumber & Herbs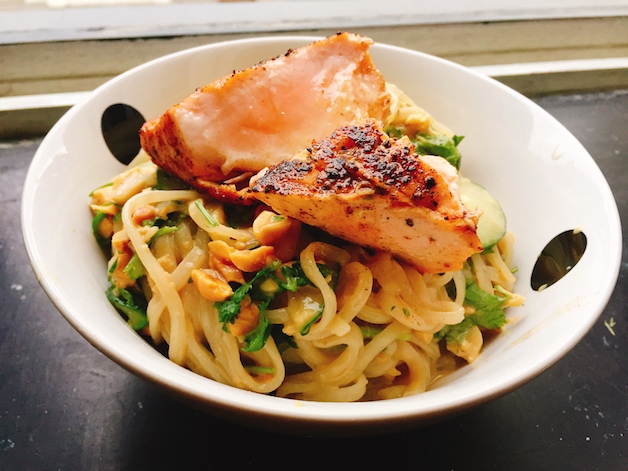 This was so fresh and light! We loved it. You see it here topped with salmon, Felix made the salmon, and I made the noodles- great teamwork. The recipe for the salmon is elsewhere (in Felix's head), but as you can see in the photo it was perfectly cooked.
If you are going to make the noodles in advance (for lunch the next day for example), I'd recommend keeping the dressing, the noodles, and the toppings separate until you are ready to eat, combining just when you are ready to sit down to keep everything fresh. If you do that you'll need to coat the noodles with sesame oil in the meantime to prevent them from sticking.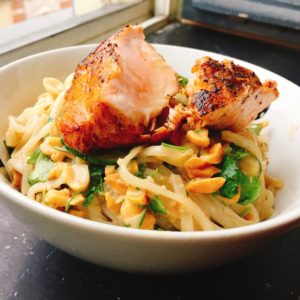 Peanut Rice Noodles with Cucumber & Herbs
2017-04-30 04:52:51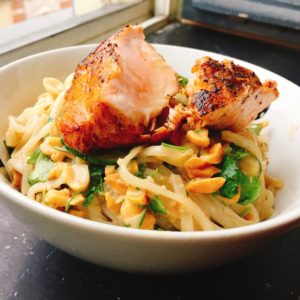 Serves 2
Ingredients
A large handful of dried rice noodles (about half a package)
2 tablespoons toasted sesame oil, plus a splash to loosen noodles
2 tablespoons tahini
1 tablespoon chunky or smooth peanut butter (i used chunky)
3 1/2 tablespoons soy sauce
2 tablespoons Chinese rice vinegar
1 tablespoon granulated or brown sugar
1 tablespoon finely grated ginger
2 teaspoons minced garlic (from 1 medium-large clove)
1/2 cucumber, very thinly sliced
1/2 cup roasted salted peanuts, roughly chopped
A handful of chopped fresh herbs, such as mint and cilantro, for garnish
Instructions
Cook noodles according to package directions and rinse with cold water to cool. Drain well. Drizzle with a tiny splash of toasted sesame oil to keep them from sticking until dressed.
Meanwhile, whisk sesame paste and peanut butter in the bottom of a small bowl, then whisk in soy sauce, rice vinegar, remaining 2 tablespoons sesame oil, sugar, and ginger to taste until smooth. Adjust flavors to taste.
Toss sauce with cold noodles. Add in the cucumbers, peanuts, and the herbs. Stir and serve.
Adapted from Smitten Kitchen
Victoria's Kitchen http://kitchenbyvictoria.com/