Pasta with Cauliflower, Garlic, and Oil (Pasta col Sugo di Cavolfiore)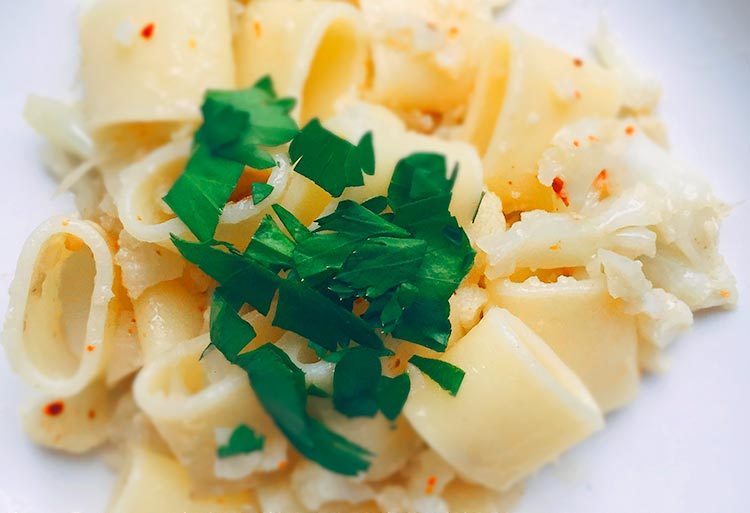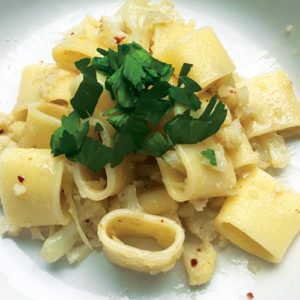 Pasta with Cauliflower, Garlic, and Oil (Pasta col Sugo di Cavolfiore)
2016-07-02 19:28:16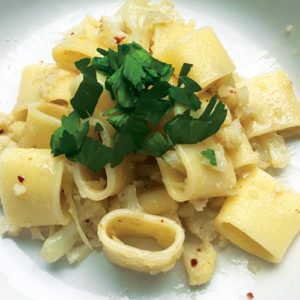 Serves 4
Ingredients
1 Head of cauliflower
½ Cup/120 ml of olive oil
8 Garlic cloves, peeled and finely chopped
6 Anchovy fillets, chopped
¼ Teaspoon chopped hot red pepper
Salt
1 Bag penne or similar pasta (I used tubettone)
2 Big spoonfuls chopped parsley
Instructions
Clean the cauliflower, and chop it into large chunks (try to cut all similar sizes so that they cook at the same time).
Bring a large amount of water to boil in a large pan, and add the cauliflower. Cook until tender, about 5-10 minutes depending on the size of your chunks. Test with a fork to be sure it's tender before taking out.
Get it out of the water with a slotted spoon, and set aside.
In a separate frying pan, put the oil, garlic, and anchovies over medium heat. Sautee until the garlic starts to turn golden brown. Stir from time to time with a spoon. Add the boiled cauliflower, and break it up quickly, crumbling it into pieces no bigger than a peanut. Turn it thoroughly in the oil, mashing part of it to a pulp.
Add the hot pepper and a fair amount of salt. Turn off the heat, cook for a few minutes more, and turn off the heat.
In the same water you cooked your cauliflower in, throw in the pasta with a fair amount of salt. cook until al dente, and then drain it (reserving a cup of cooking liquid just in case), and toss it together with the cauliflower mixture to mix thoroughly.
Victoria's Kitchen http://kitchenbyvictoria.com/
This recipe is from a very old-school book called "
More Classic Italian Cooking
" by the legendary Marcella Hazan.
It's a version of pasta aglio e olio, with a bit more substance and healthier due to the entire head of cauliflower.
You can add parmesan if you so desire, but I prefer without. If you can't decide, try both- nothing to lose.
I absolutely hate anchovies, but you do need them in this recipe. You'll need to invite over a friend/relative/loved one to deal with the anchovy portion so you don't have to look at them.