Punjabi Matar Paneer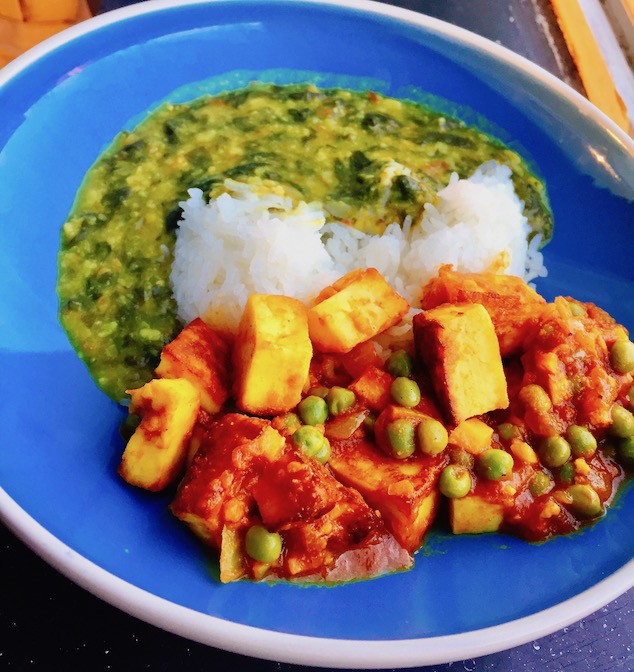 This recipe is from the genius Maunika Gowardhan, who is a really wonderful Indian chef. Her recipes are easy to follow, quick to make, and healthy.
I think Indian is one of the cuisines in the world where meat is really necessary. The vegetarian options are so countless.
The photo you see here is the same as the next post (Palaak Daal)- because I cooked them together, and I only took one picture #fail. So sorry for the visual repetition.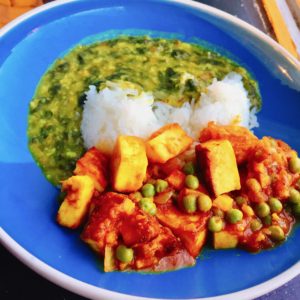 Punjabi Matar Paneer
2017-07-15 03:40:00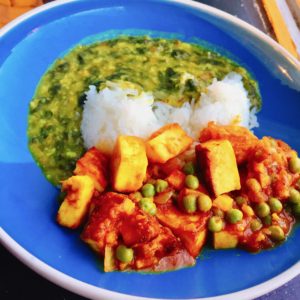 Serves 4
Ingredients
Vegetable oil
500g paneer
To make the curry;
2 tbsp vegetable oil
250gms white onion finely chopped
2" ginger roughly chopped
2 cloves garlic roughly chopped
1 heaped tsp cumin seeds
1 heaped tsp coriander seeds
1 tsp turmeric
1 tsp mild chilli powder
400g tinned tomatoes blended to a puree
Pinch of sugar
Salt to taste
200ml water
200g frozen green peas
½ tsp garam masala powder
Handful of coriander for garnish
Instructions
Blend the ginger and garlic with a splash of water to a smooth paste and set aside.
Dab any excess moisture from the paneer on kitchen paper and cut into bite size cubes.
Heat vegetable oil for shallow frying in a pan over a medium heat. Add the paneer cubes in batches and fry. Make sure they get an even colour and go a light brown (this should take around 2-3 minutes) Drain over kitchen paper and add to a bowl of warm water. Let it soak while you make the gravy.
Heat oil in a heavy bottom sauce pan over a medium heat. Add the onions and fry for 12-14 minutes. Stir well as they begin to change colour turn the heat low and add the ginger and garlic paste. Fry well for 2 minutes stirring continuously.
Add the cumin and coriander along with the turmeric and chilli powder. Fry for a minute and add a splash of water making sure it doesn't stick to the bottom of the pan and continue cooking the raw flavour of the spices for a further minute. Tip in the blended tomatoes simmer the curry over a low heat for 8-10 minutes with lid on. Stir a couple of times through the cooking process. Add 200mls water along with the sugar and salt. Continue to simmer for 5 minutes with the lid on.
Add frozen green peas along with the garam masala. Drain the water from the paneer and add the cubes to the curry. Stir well making sure to coat all the pieces with the sauce. Simmer for 2 minutes and turn the heat off. Garnish with coriander and serve with rice.
Victoria's Kitchen http://kitchenbyvictoria.com/