Really Easy Duck Confit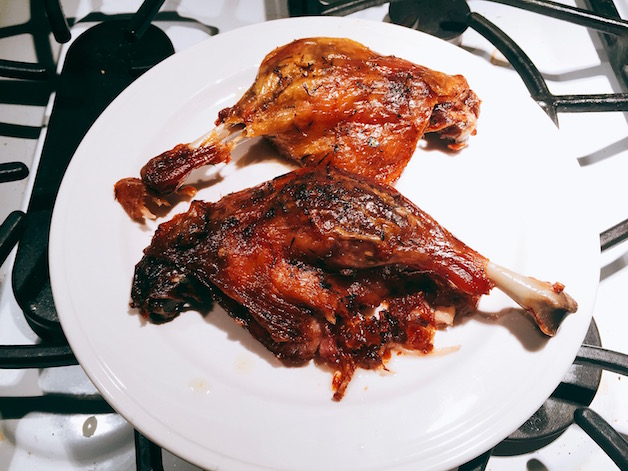 This is actually the perfect holiday dish. It's superbly easy, and you get lots of credit because it's incredibly tasty and moist.
Plus, you get duck fat leftover, which means you can cook your eggs in it a few times, or make a potato gratin with the fat (unforgettable).
You'll want to serve it with some cheesy potato gratin (or potato cabbage gratin), and a fresh green salad made with some bitter greens like arugula.
Lastly, a disclaimer: I'm not 100% proud of this photo… in my defence, it was dark out so we had no natural light. It's no reflection on how delicious the final result was!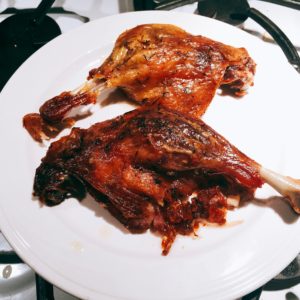 Really Easy Duck Confit
2017-01-06 20:21:50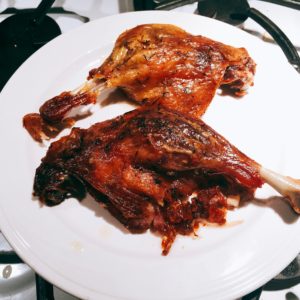 Serves 8
Ingredients
8 moulard duck legs (not trimmed)
1 bay leaf, crumbled
1.5 teaspoons of thyme
1.5 teaspoon of kosher salt
1 teaspoon freshly ground black pepper
Instructions
24 hours before you are ready to cook, mix together all of the ingredients for the rub, and rub it into the duck legs, which are laid out on a baking sheet. Cover with plastic wrap and refrigerate for 24 hours.
At least 3.5 hours before you want to eat, pre-heat the oven to 425 degrees.
Place the duck legs fat side down (note, that's NOT skin side down), in a thick pan over medium heat. Let cook for 20 minutes, or until ¼ inch of fat is in the bottom of the pan.
Flip all of the legs so they are skin side up, cover the pan with foil (if you feel they need more space you can transfer to a baking sheet at this stage), and bake at 325f for 2 hours.
Remove the foil, and cook for one further hour.
Remove from the oven and let sit for 10 minutes before serving.
Adapted from New York Times
Victoria's Kitchen http://kitchenbyvictoria.com/