Rosemary Foccacia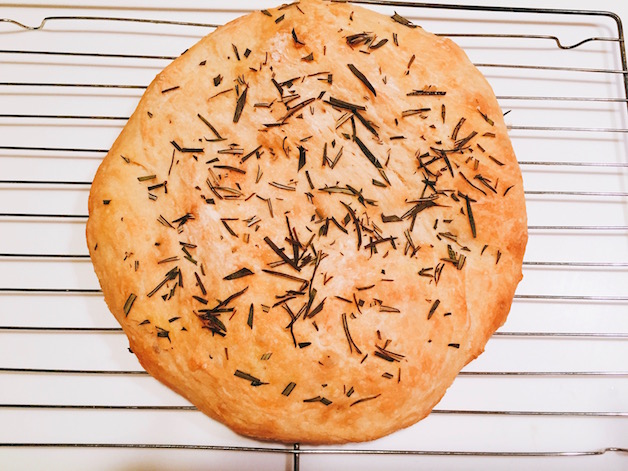 I originally made this for my beautiful friend Claudia who has just had two handsome twins. I did, however, leave it in the car and forget to bring it to her sigh.
Anyways, Claude- this one was for you!!
It's yummy, salty, oily, everything a focaccia should be. We ended up freezing these, and that works just fine in case you can't eat both loaves right away.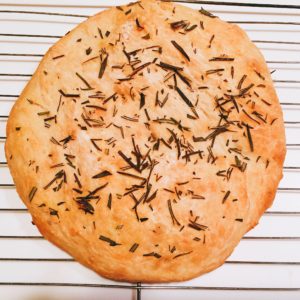 Rosemary Focaccia
2017-01-07 17:50:37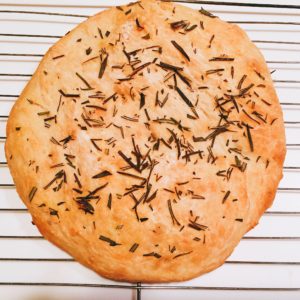 Base dough
½ cup flour
½ cup room temperature water
¼ teaspoon instant yeast
Second dough
2 ½ cups flour
1 ¼ cups water, room temperature
1 teaspoon instant yeast
1.5 teaspoons salt
¼ cup extra virgin olive oil
3 tablespoons chopped fresh rosemary
Instructions
First make the base dough. Stir together all ingredients in a large bowl with a wooden spoon, until combined. Cover tighly with plastic wrap, and let sit at least 6 hours, and up to 24. The dough should rise and begin to collapse.
Once you've got your base dough, mix it together with the second dough. Stir the flour, water, and yeast into the base dough until well combined. Cover tightly with plastic and let rest 15 minutes.
Stir 1.5 teaspoons of salt into dough with wooden spoon until fully combined, about 1 minute. Cover bowl with plastic and let rest 30 minutes.
Using a greased rubber scraper, fold dough over itself towards the middle. Repeat 7 more times, turning the bowl in a circle as you do, until you have folded it over all the way around. Cover with plastic and let rest 30 minutes.
Repeat the folding circle, and let rest again for 30 minutes.
Repeat the folding circle a third time, cover, and let rest until almost doubled in size, about an hour.
Adjust the oven rack to upper middle position, and place a baking stone on the rack. Heat the oven to 500f. Coat two 9-inch round cake pans with 2 tablespoons of oil each, and sprinkle each with a large pinch of salt.
Transfer dough to a lightly floured counter, and dust the top with flour as well. Divide dough in half, and cover the part you aren't working with in greased plastic. Take the other dough ball, and shape into a 5 inch round by tucking the edges under itself.
Place seam side up in a prepared pan, coat the bottom and sides with oil, and flip it over. Cover loosely with greased plastic and let rest 5 minutes while you repeat with the second ball.
Moving back to your first dough ball, gently press it out into the edges of the pan, being careful not to rip the dough. Using a fork, poke the surface of the dough plenty of times, poping any air bubbles. Sprinkle with rosemary, cover with plastic, and let rest another 10 minutes.
Repeat with the second ball.
When ready, place pans on baking stone, and reduce oven temperature to 450f. Bake until tops are golden, 25-30 minutes.
Let loaves cool for 5 minutes before removing from the pans onto a wire rack. Let cool for 30 minutes thereafter before serving.
Feel free to dip the bread in any olive oil left over in the pan- you won't regret it !
Victoria's Kitchen http://kitchenbyvictoria.com/