Shrimp Stuffed Calamari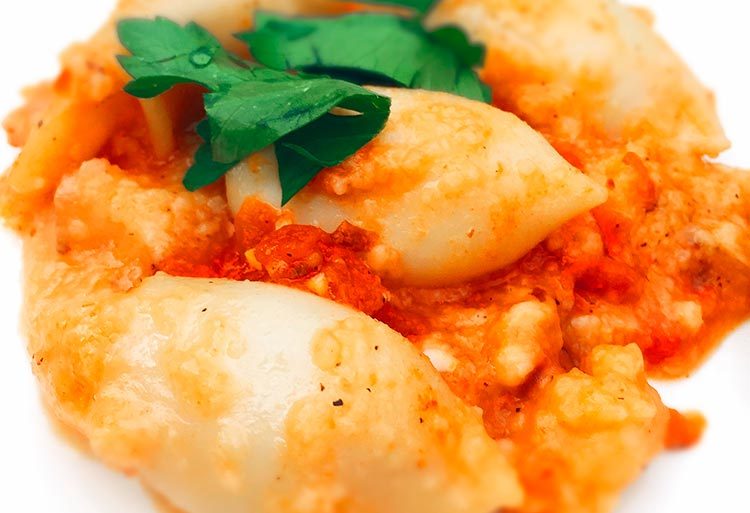 This dish became the focus of most of our attention this week. We woke up thinking, how can we get black pepper taralli? Should we make them ourselves? Should we schlep over to the fancy seafood store and buy them? HOW do you make them?
We did pulled out all the stops for this one. We called our Italian cousin for an authentic recipe, we bought all of the ingredients to make it at home, and we went to the fancy fish store to buy a fortune's worth.
Day of cooking arrives. The moment we've all been waiting for.
The Taralli. Are. Rancid.
Thinking quickly we used some panko + a huge pile of black pepper and these came out completely amazing. I've still put taralli as an ingredient, if you can get ahold of them. But if you can't, no bother!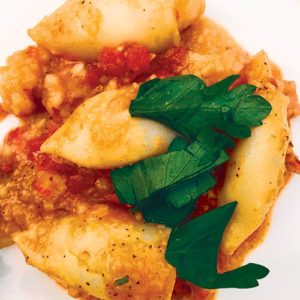 Shrimp Stuffed Calamari
2016-07-07 17:41:42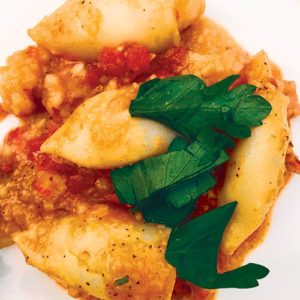 FOR THE CALAMARI
½ cup black-pepper taralli, OR Italian breadsticks OR panko
1lb pound large squid (about 6), cleaned, bodies and tentacles separated
A large glug of extra-virgin olive oil
1 large spoonful unsalted butter
5 garlic cloves, roughly chopped
Red-pepper flakes or another chile (aleppo, urfu, etc.), to taste
½ pound peeled shrimp, cut into small pieces
¼ cup dry white wine
½ teaspoon finely grated fresh lemon zest
Salt & Pepper to taste (if you do not use the black pepper taralli, use LOTS of black pepper
FOR THE SAUCE
A large glug of extra-virgin olive oil
Red-pepper flakes, to taste
4 garlic cloves, crushed
1 large can crushed tomatoes
Salt and freshly ground black pepper
1 handful Italian flat-leaf parsley, chopped
Instructions
Make the sauce: In a wide, deep pan, warm the olive oil over medium heat. Add red-pepper flakes to taste and the garlic, and cook until fragrant and just beginning to color. Stir in the tomatoes, and season with salt and pepper. Bring the tomatoes to a boil, then lower the heat and simmer the sauce for 15 minutes.
Make the stuffing: Smash the taralli or the breadsticks until it forms coarse crumbs.
Chop the squid tentacles finely, and pat them very dry with paper towels.
In a large skillet, heat a glug of olive oil over medium heat. When hot, add the squid tentacles, and spread them out. Sear until golden brown, about 5 minutes, then add the butter, garlic and red-pepper flakes to taste. Cook, stirring, until the garlic just starts to color, about 1 minute.
Add the shrimp, season with salt and cook until just pink, about 2 minutes. Add the wine, and simmer for 1 minute. Turn off the heat, and stir in the crumbs and lemon zest. The crumbs should look like wet, clumpy sand. If the mixture is too dry, sprinkle in a little more wine, and allow the filling to cool until just warm.
Stuff each squid body with the filling, leaving a bit of room (the stuffing will expand as it cooks).
Add the calamari and any extra stuffing into the tomato sauce pot, and keep it at a very gentle simmer.
Cover the pan, and simmer for 45 minutes, stirring occasionally and adjusting the heat to make sure the sauce maintains a lazy bubble. Adjust with salt to taste. Garnish with the parsley.
Serve with bread or pasta.
Adapted from NY Times
Victoria's Kitchen http://kitchenbyvictoria.com/