Slow-Roasted Salmon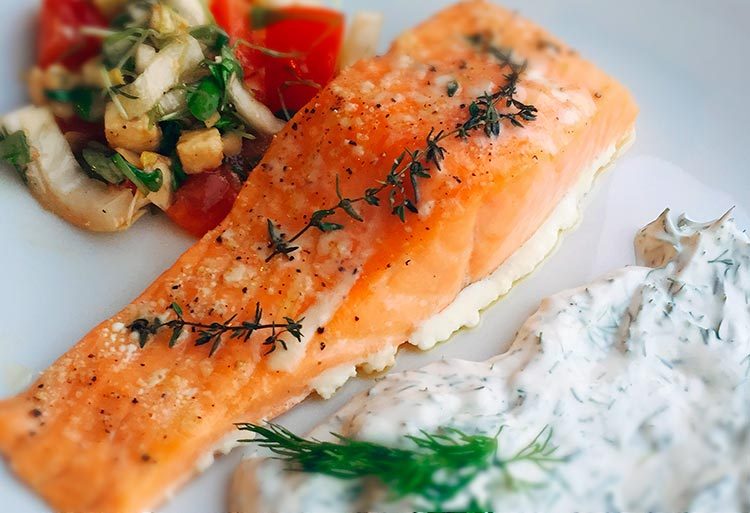 This was my first time slow-roasting. It makes a beautifully tender, evenly cooked, very moist piece of fish. I almost think it is actually better at room temperature or even cold. It would be the perfect way to prepare fish if you have quite a few people coming over and you're looking for an easy hit.
The marriage between salmon and dill is a natural and happy one
Try this with another kind of fish if you like! Anything relatively thick.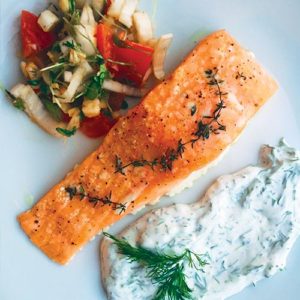 Slow-Roasted Salmon
2016-09-04 03:45:42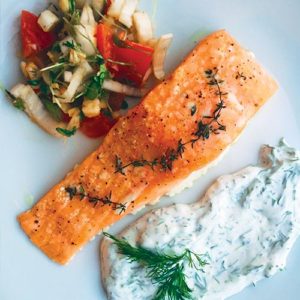 Serves 2
Ingredients
A glug of extra-virgin olive oil
2 thick salmon fillets
A few fresh thyme sprigs
Kosher salt
Chopped fresh dill, 1 garlic clove pressed, and Greek yogurt to finish
Instructions
Preheat the oven to 275f/135c. Pour a small bit of olive oil into the pan, and place the fish in, skin side down.
Rub the top with a bit more olive oil. Sprinkle lightly with salt. Tuck some thyme underneath the fish, and the rest above.
Roast for 15-35 minutes, until a two-pronged kitchen fork inserted in the thickest part of the fish meets with no resistance, the flesh separates easily from the skin, and is just beginning to flake when you poke into it. Don't worry if the top of the fish looks kind of raw on the outside; this is due to the low roasting temperature. It will be cooked inside.
Remove the thyme and sprinkle with fresh dill or chives.
Serve with Greek yogurt mixed with dill and garlic (1 clove, pressed).
Adapted from Food52
Victoria's Kitchen http://kitchenbyvictoria.com/