Slurpy Ginger Turmeric Noodle Bowl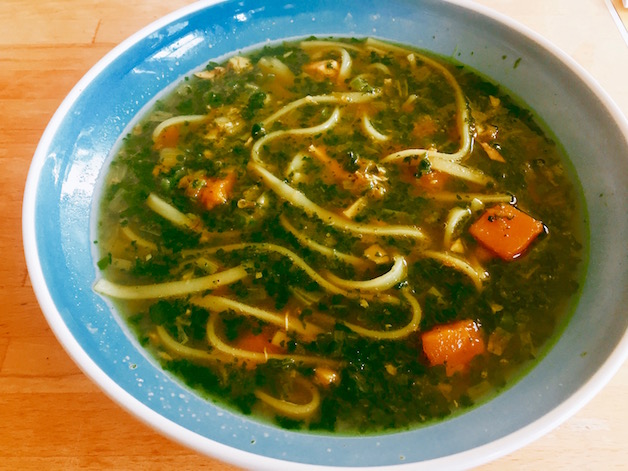 This is my new 'go-to' pantry meal. You can easily stock up on all of the ingredients in advance, and you'll be happy for it when you're hungry.
It's also extremely comforting. The broth is spiced and warm, and it's packed with spinach and pumpkin so it is actually incredibly healthy as well.
The higher quality chicken broth you use the better. If you have homemade broth- use it. Otherwise the highest quality bouillon will do.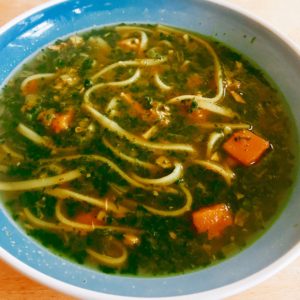 Slurpy Ginger Turmeric Noodle Bowl
2017-02-16 13:57:56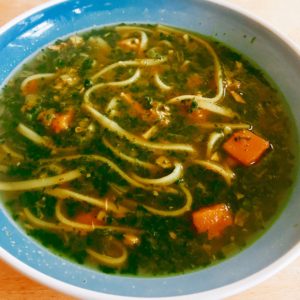 Serves 1
Ingredients
1 Onion
2 cloves of garlic, minced
Light oil such as rapeseed or peanut
1 teaspoon of turmeric
1 1-inch cube of ginger, peeled and grated (or more if you can handle it)
4 cups high quality chicken broth (make it yourself it's worth it)
1-2 stalks of lemongrass, crush the bulbous end with a knife
A small handful of frozen spinach
A small handful of frozen cubed pumpkin or squash
Shredded cooked chicken (if you want, without is also great)
Salt & pepper to taste
A handful of vietnamese or thai rice noodles (the kind you would use for Pho or Pad Thai work perfectly.
Instructions
Fry the onion and garlic in a glug of oil, until softened.
Add the ginger and turmeric, and stir around to coat.
Add the chicken broth and the lemongrass, and bring to a boil.
Once boiling, add the spinach and pumpkin, and let simmer until everything is warmed through and soft.
Throw in the rice noodles, and stir until they are cooked through (a few minutes). If you are using shredded chicken, add it now.
Once it's heated through, add salt and pepper to taste, and eat!
Victoria's Kitchen http://kitchenbyvictoria.com/