Spaghetti Squash Boats- Spinach & Artichoke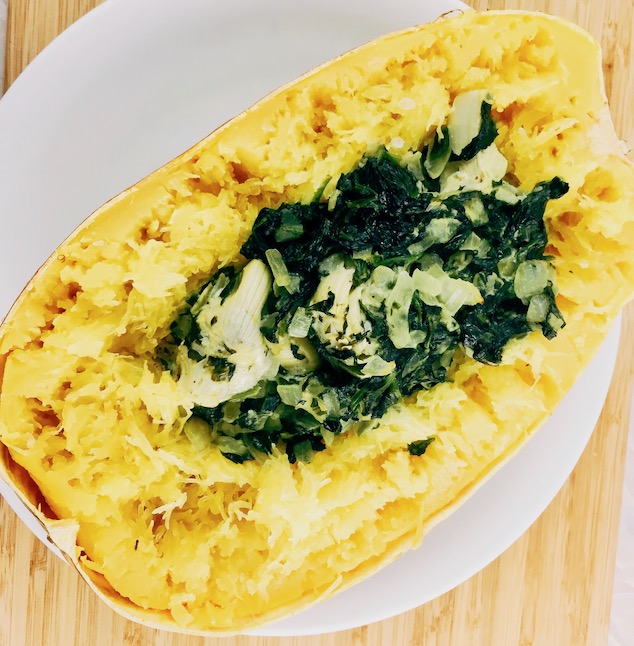 So this one Sunday evening I had the good fortune of running into my friend Vivs in the grocery store. I was determined to make chicken pot pies, I had spent all morning researching recipes for the week, and I had my grocery list prepared.
Suddenly Vivs rocked my world, alerting me to the fact that the store had spaghetti squash in stock!! The list went straight into the pocket and I started from scratch.
After some advice from Vivs (who made the squash a few days ago), and a quick google, I came up with this. Felix is thoroughly impressed and we've decided it's going to be a repeated meal in the Breckhoven household!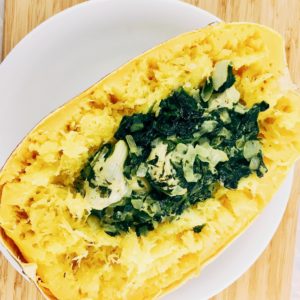 Spaghetti Squash Boats- Spinach & Artichoke
2017-11-05 12:17:28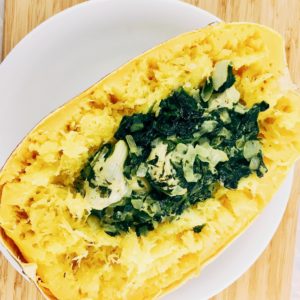 Serves 4
Ingredients
1 spaghetti squash, cut in half lengthwise (You need a sharp knife, please don't cut yourself. I actually broke a knife in this step... sorry Felix!)
1 500g bag of spinach
1/3 cup sour cream
1 small jar of artichoke hearts
2 small onions
4 cloves of garlic
a handful of salt & a glug of oil
Instructions
Preheat oven to 400f/200c.
Cover your baking tray in aluminium foil, and place the two halves of spaghetti squash face down on the tray.
Bake for 45 minutes, or until fork tender.
While the squash is cooking, make your filling. Chop the two onions and the garlic, and sautée in olive oil or another vegetable oil, with a pinch of salt, until soft. Wash and chop up the spinach, and add it to the pan in batches until wilted. Keep salting to taste as you go along.
Once cooked, add in the chopped artichokes and the sour cream, and stir until fully combined. Set aside OFF the heat.
When the timer for the squash goes off, remove from the oven, pour off the water, and flip the squashes.
Fluff the squash flesh with a fork, make a well in the middle, and add the filling (including the juices in the pan). Drizzle with olive oil or add some small chunks of butter around the outsides of the squash, and sprinkle with more salt. Return to the oven closer to the top, and cook for another 10 minutes. Finish under the broiler for a few minutes.
YUM. Thanks vivs for your inspiration!
Victoria's Kitchen http://kitchenbyvictoria.com/