Spatchcocked Chicken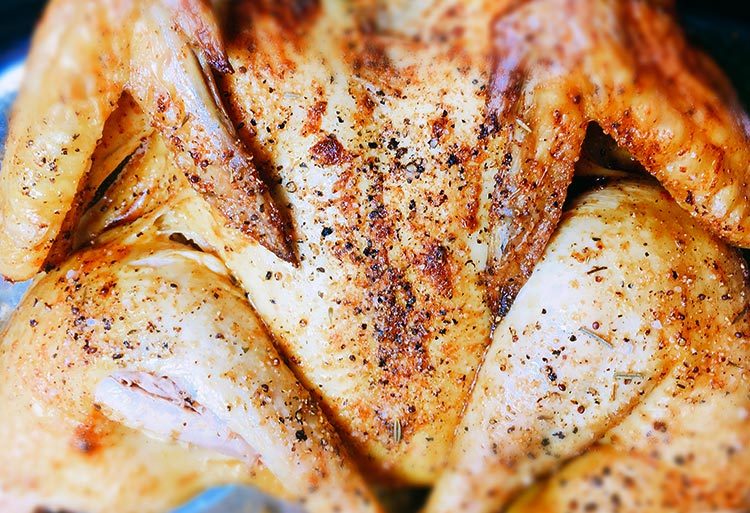 So for those of you that are sick of beer bum chicken, and looking for more creative ways to bake up a chicken… have you heard of spatchcocking? It's a method of preparing chicken whereby you remove the back bone, and flatten it completely, which allows it to cook in half the time, resulting in an incredibly juicy chicken with more coverage of crispy skin (win win win!)
In order to remove the backbone, you are best off with kitchen shears. I used regular scissors and I'm surprised my hand isn't bruised. OW.
If you feel my instructions are inadequate please youtube this process, there are lots of tutorials & videos about it.
This particular recipe came from a fabulous book called "The Hairy Bikers: Chicken & Egg", which focuses on two of my favorite things: chicken & eggs. It's a must buy.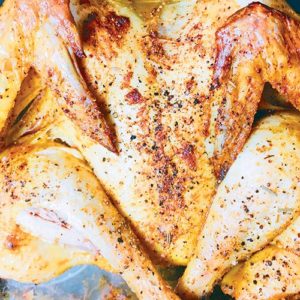 Spatchcocked Chicken
2016-11-04 15:52:07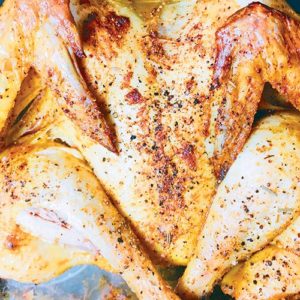 Serves 5
Ingredients
1 Chicken
1 teaspoon sea salt
1 teaspoon dried herbs (rosemary, thyme)
1 teaspoon sweet smoked paprika
A pinch of brown sugar
2 Tablespoons olive oil
Instructions
If you have the time, get the rub on the chicken the day before you plan to roast it. If not, at least a few hours in advance. Also remember to have your chicken out of the fridge at least 1 hour before you plan to cook it.
Mix together all of the dry ingredients. Rub olive oil all over the chicken, and then cover it with the spice mix. If you are leaving it overnight, cover it with plastic wrap and pop it back in the fridge.
When you are ready to cook, preheat the oven to 200c.
To spatchcock the chicken, turn it breast-side down with the legs towards you. Using your kitchen shears (or in a worst case scenario regular scissors), cut down one side of the chicken (start through it's neck, all the way through it's butt). Be sure your scissors are right along the backbone. Then do the same on the other side. Remove the backbone and use it for stock (non-negotiable!!!)
Flip the chicken back to breast side up and press down firmly on the breast bone to flatten it.
Slap it in a pyrex pan, cover it again with spice mix and oil if some dropped off during all of your man handling.
When the oven is hot, pop it in and cook it for 35-40 minutes, until the skin is crisp and the meat is cooked. I don't own a thermometer so it's usually 'guess and check' method, which you can probably tell from the picture.
Remove from the oven and if you have time cover it with foil for 10 minutes before serving.
You MUST serve with pan juices poured over the top.
Adapted from The Hairy Bikers
Victoria's Kitchen http://kitchenbyvictoria.com/