Spiced Holiday Pecans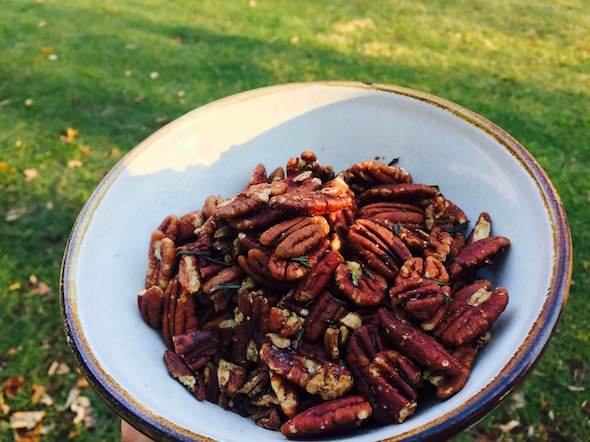 These are a Christmas season staple on Beckwith Rd… and it ain't for nothing.
They are addictive, and delicious, and (comparatively) rather healthy.
The key is to find fragrant rosemary. The other key is not to burn the nuts.
Enjoy !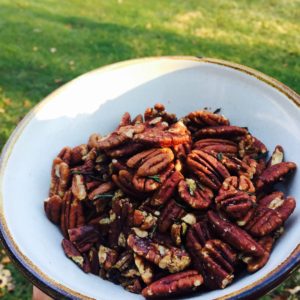 Spiced Holiday Pecans
2016-12-28 12:04:06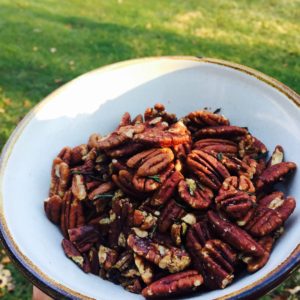 Ingredients
2 Tablespoons of butter
1-2 Tablespoons brown sugar or honey
Pinch of cayenne
1-2 teaspoons of salt
¼ cup rosemary (just the spikes, ripped off the stalks)
1 baking sheet full of pecans, in a single layer
Instructions
Preheat the oven to 350.
Arrange the pecans on the baking sheet, and when it comes to heat, pop them in until fragrant (5-10 minutes). Don't let them burn- stay attentive.
While the pecans are baking, melt the butter in a pan, and add in the cayenne, honey or brown sugar, and salt. Stir to combine.
Just before the nuts come out of the oven, chop the rosemary coarsely.
When the nuts come out of the oven, pour them quickly into a large bowl, toss with the rosemary and the butter mixture.
Toss quickly to combine fully, and let cool.
Victoria's Kitchen http://kitchenbyvictoria.com/