Steak with Soba, Zucchini & Edamame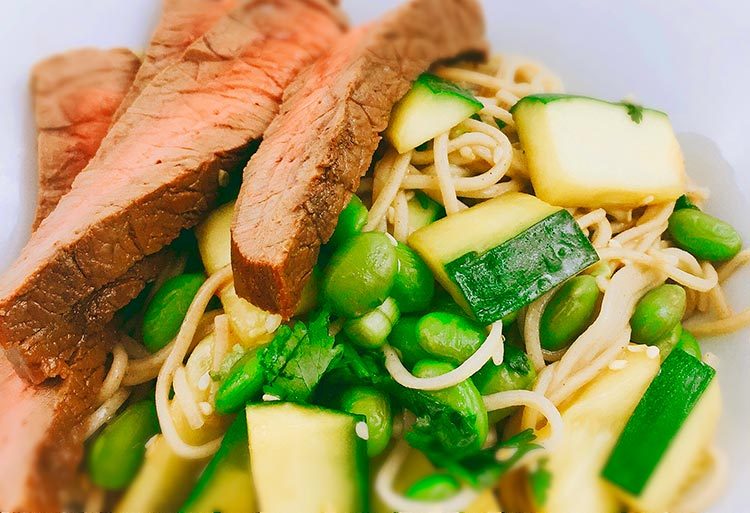 The steak here is not the main act. It's delicious, but the whole thing works very well without it.
This is equally good cold as it is just after cooking it, so it's an easy thing to serve when you have people over because it's not very fussy.
There are quite a few adaptations you could make if you wanted, I can easily picture chicken or tofu instead of steak.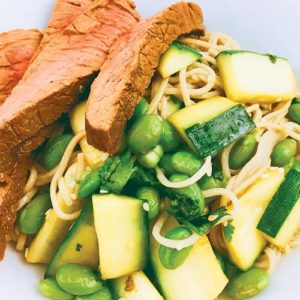 Steak with Soba, Zucchini & Edamame
2016-10-02 13:02:28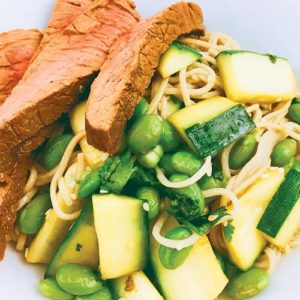 Serves 3
Ingredients
1 8oz bag of soba noodles
A large spoonful of toasted sesame oil
3/4 cup soy sauce
3/4 cup mirin
1 large spoonful of sugar
6 thick slices of fresh ginger, peeled)
4 cloves of garlic, peeled and crushed
1 tsp salt
1 large or two small steaks
2 small zucchini, cut into thick matchsticks (in half lengthwise, in long slices, and then in 2-inch chunks)
2 cups of edamame (frozen or fresh)
4 spring onions, sliced thinly
2 large spoonfuls toasted sesame seeds
1 large bunch coriander, washed and chopped
Instructions
6-12 hours before you want to cook, combine the soy sauce, mirin, sugar, ginger, garlic, salt and 1 cup water in a small pan, and bring to the boil. Let cool, and marinate the steak(s) in this mixture until you are ready to eat.
Toast the sesame seeds in a small frying pan.
When you are ready to go, boil the water for the soba noodles, with plenty of salt. Cook the soba noodles for 4 minutes (or according to the instructions on your package), when done strain, rinse well, and toss with the sesame oil so that they don't stick.
In a sizzlingly hot pan fry the steak(s) 3 minutes on each side, or as you like to eat your steak!
When done, take the steak out and set it aside, pour the marinade into the pan and bring to the boil. Once boiling throw in the edamame and zucchini and cook for 2 minutes or so. You want them tender but not overcooked.
In a large bowl mix the soba with the sesame seeds, spring onion, and coriander. When done, add the zucchini and edamame, leaving the marinade in the pan to boil for another few minutes, until it's a bit thicker.
Toss the salad well, top with slices of steak, and once reduced drizzle with the sauce.
Victoria's Kitchen http://kitchenbyvictoria.com/