Summer Green Orzo Salad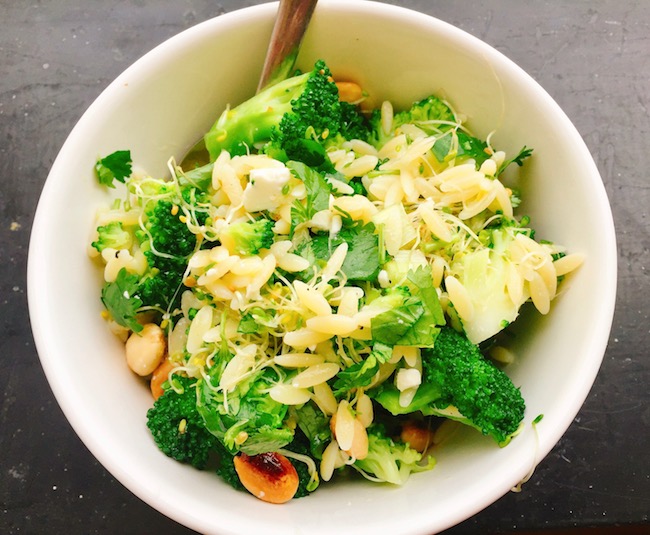 This is perfect for a hot summer day. It's very flexible (feel free to experiment with different ingredient mixes), but I recommend making this original one first.
If you are taking it to a picnic, just dress it right before you get to the picnic, it shouldn't be sitting around too long in advance.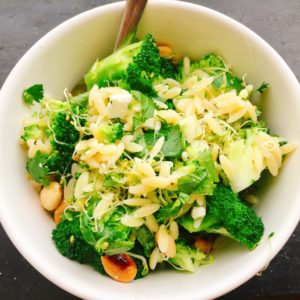 Summer Green Orzo Salad
2017-06-24 12:18:19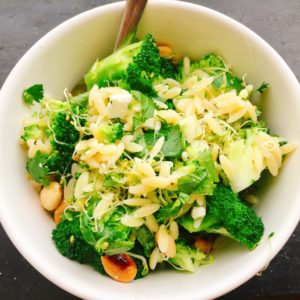 Serves 2
Ingredients
1 cup dried orzo
1/2 a medium head of broccoli or broccolini, cut into small pieces
small handful of cilantro, chopped
1 small clove of garlic, pressed
2 tablespoons fresh lemon juice
1/4 cup extra virgin olive oil
Salt & Pepper to taste
a small handful of sprouts
1/3 cup almonds, toasted
1/2 small cucumber, cut into 1/4-inch pieces
1 medium avocado, sliced into small pieces
1/4 cup feta, crumbled
Instructions
Bring a large pot of water to a boil. Salt generously and boil the orzo per package instructions. Avoid over-boiling, you want your orzo to be cooked through, but maintain structure. About 30 seconds before the orzo is finished cooking stir the broccoli into the orzo pot. Cook for the final 30 seconds, drain and run under a bit of cold water. Just long enough to stop the cooking.
In the meantime, whisk together the garlic, lemon juice, olive oil, salt and pepper into the dressing. Set aside.
When you are ready to serve the salad toss the orzo, broccoli, and cilantro with about half the dressing. Add more dressing if needed, and toss well. Now add the sprouts, almonds, cucumber, avocado, and feta. Gently toss a couple of times to distribute those ingredients throughout the salad and serve.
Adapted from 101cookbooks
Victoria's Kitchen http://kitchenbyvictoria.com/