Summer Minestrone with Fresh Pesto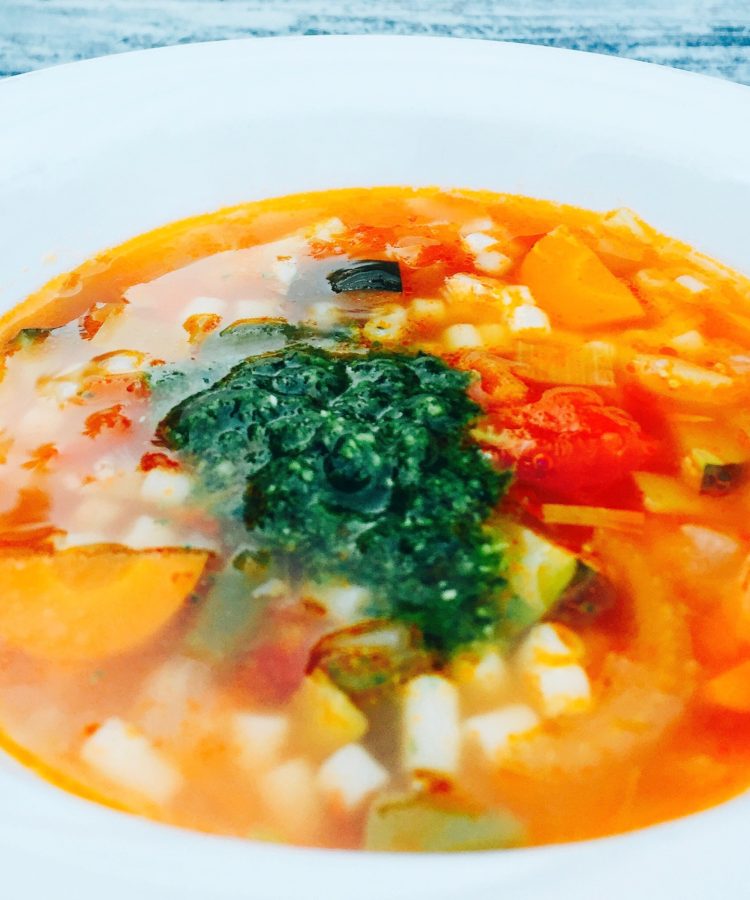 Such a perfectly fresh summer soup. This just tastes like the garden.
If you can, do make the pesto yourself, it's worth it. Also don't turn up your nose at the butter. Untraditional, yes. delicious, also yes.
Cooking for a crowd? Make a double recipe, grill up some toasts, and serve with toast and salad- it's way more filling than you might imagine.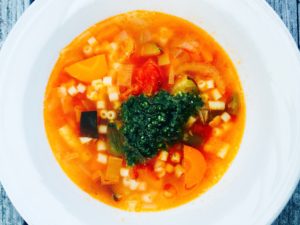 Summer Minestrone with Fresh Pesto
2016-07-27 18:02:39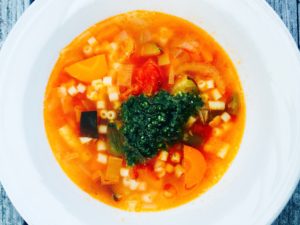 Serves 8
Ingredients
Extra virgin olive oil
1 Medium onion, chopped
2 Medium carrots, chopped
2 Celery stalks, chopped
1 Shallot, chopped
2 Leeks, chopped
4 Large garlic cloves, minced or pressed
1 (14oz) can chopped tomatoes, with liquid
1 zucchini, diced
A bouquet garni consisting of 1 Parmesan rind, 1 bay leaf, and parsley stems, tied together with kitchen string
1 (15-ounce) can cannellini or other white beans, drained and rinsed
A handful of green beans, cut into 1-inch segments
A handful of yellow beans, cut into 1-inch segments
½ cup tiny soup pasta, such as tubetti
Freshly ground pepper to taste & high quality salt
Fresh Pesto- see below
Freshly grated Parmesan for garnish
For the pesto
2 cups fresh basil leaves
½ cup olive oil
2 tbsp pine nuts
2 cloves garlic, lightly crushed with a knife and peeled
1 tsp salt
½ cup + 2 tbsp parmesan cheese, freshly grated
3 tbsp butter, softened to room temperature
Instructions
Heat the olive oil over medium-low heat in a large, heavy soup pot or Dutch oven and add the onion, carrots, celery, leeks, green and yellow beans, and shallot. Cook, stirring, until beginning to soften, about 3 minutes, and add 1/2 teaspoon salt. Continue to cook, stirring often, until tender, about 5 more minutes. Add the garlic, stir together for about a minute, and stir in the tomatoes. Cook, stirring, until the tomatoes have cooked down and smell fragrant, about 10 minutes. Stir in 2 quarts water, the zucchini, and the bouquet garni, and bring to a simmer. Add 2 teaspoons salt, reduce the heat to low, cover and simmer 45 minutes.
While the soup is simmering away, make the pesto: Put the basil, olive oil, pine nuts, garlic and salt in the blender and blend until smooth. Once smooth, pour into a bowl, and mix in the grated parmesan cheese by hand. Once integrated, beat in the softened butter.
Separately, cook the pasta in a different pot. This allows you to scoop the pasta and the soup separately into each bowl and the pasta never gets soggy.
Once the 45 minutes are up on the soup, stir in the canned beans. Taste and adjust salt. Remove the bouquet garni. Grind in some pepper and taste and adjust seasonings.
Serve in wide soup bowls, with a scoop of pasta, a dollop of pesto, and a sprinkling of Parmesan over the top.
Adapted from NY Times Cooking
Victoria's Kitchen http://kitchenbyvictoria.com/