Thai Coconut Laksa with Squash & Asparagus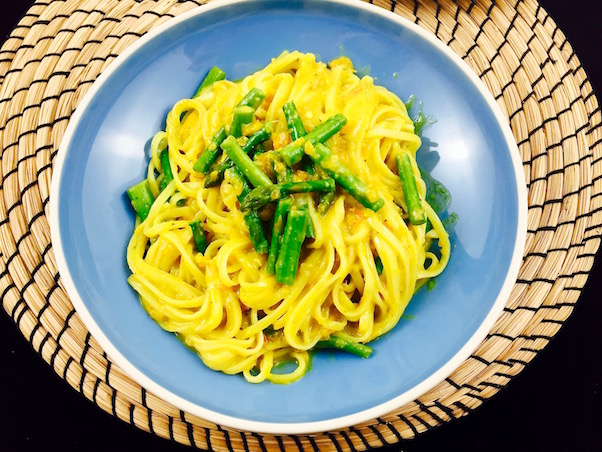 We went to the bookstore today, and I had the chance to go through a whole bunch of cookbooks; take them to the other side of the store and sit in a corner on the floor and filter through all the recipes.
This bookstore is horrendously overpriced *ahem* Waterstones, but I did snap a picture of this one recipe from a Jamie Oliver cookbook, and we decided to try it out tonight to help us decide if we want to buy the book later.
It's a YES!
Although the one disclaimer is that this absolutely did not take 15 minutes. I was slow… but even so- it took about an hour.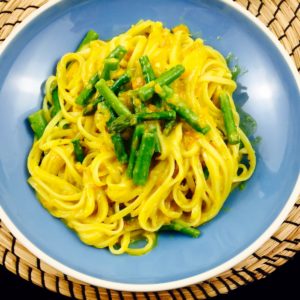 Thai Coconut Laksa with Squash & Asparagus
2016-12-17 17:09:39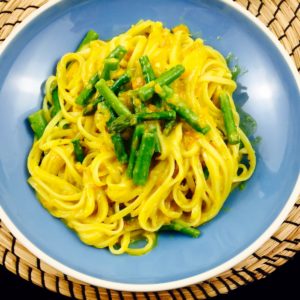 Ingredients
Bouillon
1 Butternut squash neck or chunk of pumpkin
2 cloves of garlic
1 thumb sized piece of ginger
1 fresh red chile
1 teaspoon turmeric
½ bunch of spring onions
1 heaped teaspoon peanut butter
4 dried kaffir lime leaves
bunch of coriander
1 tablespoon each: soy sauce, fish sauce, sesame oil
300g rice noodles
600g asparagus
1 400g tin of coconut milk
3 limes
Instructions
Put 800 ml of boiling water on the stove, with the bouillon cube.
Trim the pumpkin or squash chunk, and grate the flesh. Add it into the water.
In a food processor or with a hand blender, combine the peeled garlic, ginger, chilli, turmeric, trimmed spring onions, peanut butter, dried lime leaves, coriander stalks (save the leaves), sesame oil, soy sauce, and fish sauce. Blitz together until smooth.
Add this mixture into the water, together with the noodles.
Trim the asparagus and cut into pieces. Add to the pan, together with the coconut milk. As soon as it boils, taste, correct the seasoning with soy sauce and lime juice, and turn off the heat.
Serve with fresh coriander leaves & lime wedges.
Adapted from 15 Minute Meals
Victoria's Kitchen http://kitchenbyvictoria.com/