Thai Green Curry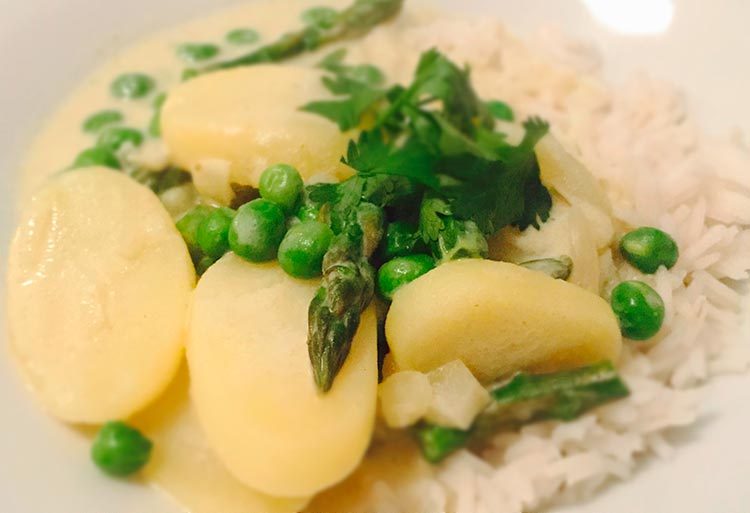 I had the pleasure of being in Schipol (Amsterdam) airport today, where there is the most fabulous grocery store in the Benelux, the Albert Heijn. It's such a customer friendly experience in comparison with Belgium, and they have a great selection of vegetables including these adorable little packages of pre-prepped vegetables.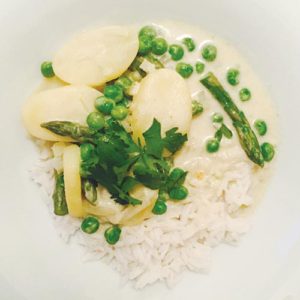 Thai Green Curry
2016-06-06 13:28:55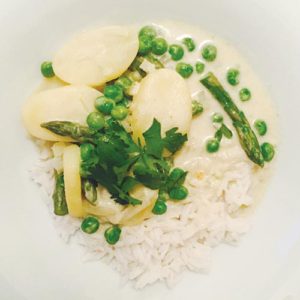 Ingredients
1 Onion, chopped
½ Courgette/Zucchini
A handful of the thinnest green asparagus you can find, chopped
A handful of fresh peas
A handful of pre-cooked potato slices
Fresh coriander, chopped
1 can coconut milk
Green curry paste
1 cup broth
Fresh lime juice
Rice
Instructions
Get the rice in the pot, and cook according to the package instructions.
While the rice is cooking, in the bottom of another pot, stir a spoonful of green curry paste with a small amount of the coconut milk. Stir around until blended, and add the onion until it softens, a few minutes. Add the rest of the coconut milk, the broth, and the chopped zucchini and let it simmer for about 5 minutes.
Taste and add more curry or salt if needed.
Once the taste is to your liking, add in the asparagus, peas, and pre-cooked potatoes. Cook just for a minute or two and pull off the heat.
Serve on rice with a squeeze of lime juice on every bowl.
Victoria's Kitchen http://kitchenbyvictoria.com/
This is an easy weeknight recipe, and it's very adaptable. I like the vegetable combination below, but you can use any combination you like, and the ratios are all up to you.