Hearty Turkish Red Lentil Soup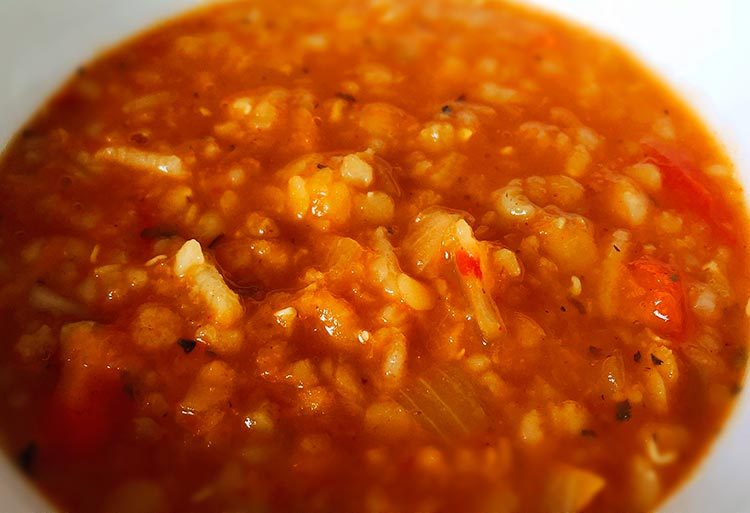 This is a Turkish soup, which is really somewhere between soup and daal.
It's got rice and bulgar already in it though, so it's a one-pot dish.
It's hearty and comforting, and most importantly beyond simple, as long as you can wait for the lentils to cook themselves.
It's originally from a book called 'The New Middle Eastern Vegetarian', by Sally Butcher (which is just a fantastic book- buy it now). In the book it's called 'The Soup of Ezo the Bride', and the story behind it is that a woman named Ezo Gelin, who basically had two horrendous marriages, the first was a bum, and the second had a monster mother-in-law. This soup apparently stemmed from her efforts to please this mother-in-law.
I'm surprised it didn't work- it's amazing!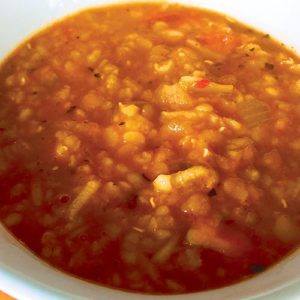 Hearty Turkish Red Lentil Soup
2016-10-02 13:37:27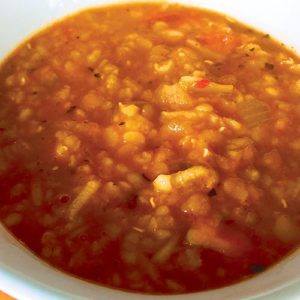 Ingredients
Butter/oil for frying
1 large onion, finely chopped
3 garlic cloves, finely chopped
3 tomatoes, diced
1/2 teaspoon ground cumin
1 1/2 tablespoons paprika
1 tablespoon tomato paste
1 1/2 cups red lentils, cleaned and rinsed
1/4 cup long-grain rice
1/2 cup bulgar
8 cups vegetable stock
Salt & Pepper
Juice of 1 lemon
1 tablespoon dried mint
Instructions
Melt then butter in a soup pot, and add a bit of oil. Fry the onion until it starts to soften, and add the garlic. After a minute or so add the tomatoes, cumin and paprika.
Stir for another minute and add in the tomato paste followed by the lentils, rice and bulgar. Store in the broth, and bring to the boil. Turn down to a summer and cook for 30-40 minutes.
Once cooked, season with salt and pepper to taste, and add the dried mint.
When ready to serve, squeeze a half a lemon over each bowl, and stir. You can also top with a dollop of yogurt.
Adapted from The New Middle Eastern Vegetarian
Victoria's Kitchen http://kitchenbyvictoria.com/