Toasted Orecchiette with Zucchini, Corn, and Crème Fraîche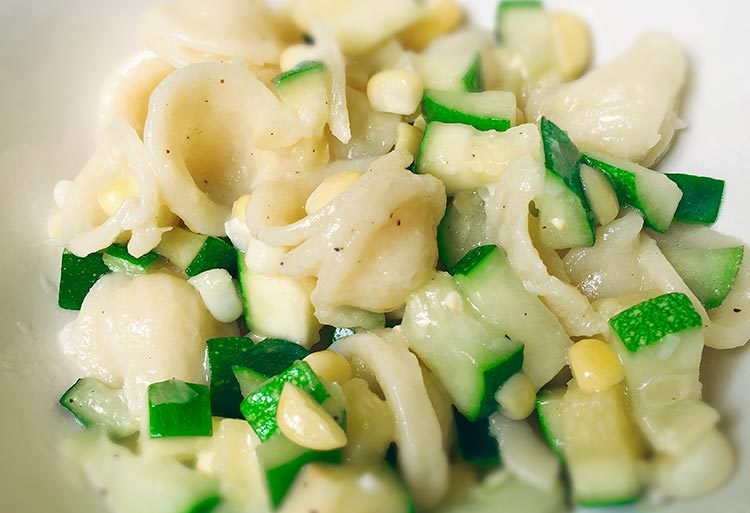 It is really hard to toast pasta. It will stick to your pan. But it will also be super delicious, and needing to soak the pan for a day or two is totally worth it.
This is a really summery pasta, mostly because of the corn.
It should still however be served right out of the pan, because the creme fraiche will be creamiest mixed with the pasta cooking water and it'll just be the perfect consistency. So it's not going to be your go to picnic dish.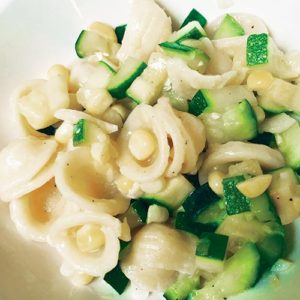 Toasted Orecchiette with Zucchini, Corn, & Crème Fraîche
2016-08-28 12:53:02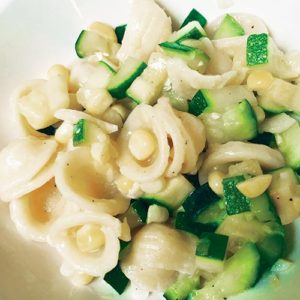 Ingredients
12 ounces orecchiette
Extra-virgin olive oil
4 to 5 small zucchini, small diced
2 ears of corn, shucked, kernels removed
2 cloves garlic, finely sliced
1/4 cup crème fraiche
1/2 cup basil, finely sliced
Freshly cracked pepper to taste
Lemon for serving, optional
Salt
Instructions
Bring a large pot of water to a boil over high heat. Add 1 tablespoon salt.
Cook pasta al dente, reserve 1/2 cup of the cooking liquid, drain pasta, transfer it to a large bowl, and toss with 1 tablespoon of the olive oil. Meanwhile, place 2 tablespoons of the olive oil in a large sauté pan over high heat. When it shimmers, add the zucchini, corn, and garlic. Immediately reduce the heat to medium, season lightly with salt, and cook for 2 minutes undisturbed. Stir, and cook for one minute more, then transfer to a large serving bowl.
Add 2 more tablespoons of the olive oil to the pan. When it shimmers, add the pasta and let it cook undisturbed for 1 minute. Stir, and let it cook for another minute. The edges should be starting to brown. Repeat this process for 2 more minutes, or until the pasta is browned to your liking, then transfer it to the bowl with the vegetables.
Add the reserved pasta cooking liquid and the crème fraiche to the sauté pan and stir until emulsified, then transfer to the bowl of pasta. Add the basil, and toss everything together. Taste. Season with pepper to taste and more salt if necessary.
Serve pasta with a squeeze of lemon.
Adapted from Food52
Victoria's Kitchen http://kitchenbyvictoria.com/