Toasted Pearl Couscous with Apricots & Pistachios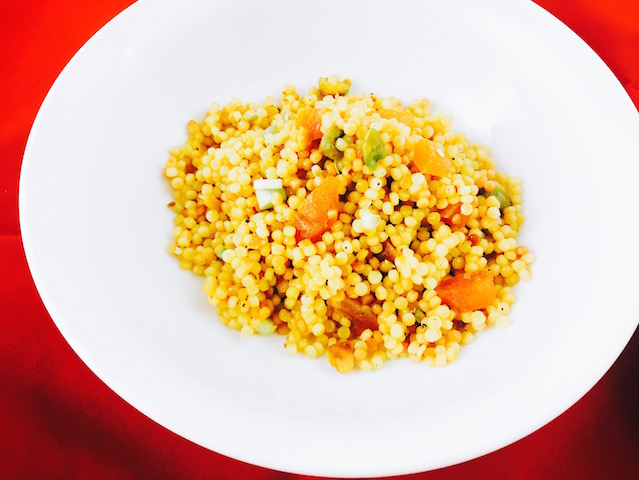 This comes from what I believe is the first cookbook I ever owned! Gifted to me by my mum, it's called '5 Ingredient Fix' by Claire Robinson, and it was indeed a good way to get started cooking, as every recipe is no more than 5 ingredients.
This one is a taste explosion, you'd never guess it has only 5 ingredients, and you will love the unusual combination of the nutty toasted couscous with the dried apricots and the pistachios.
It's just delicious.
To make a full meal out of it I make chicken on the side- Miso chicken (there is another post on this) to be exact. You could go one step further and put it all on a bed of lightly dressed greens.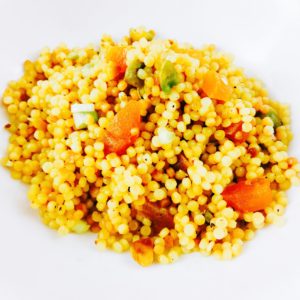 Toasted Pearl Couscous with Apricots & Pistachios
2016-12-17 16:55:06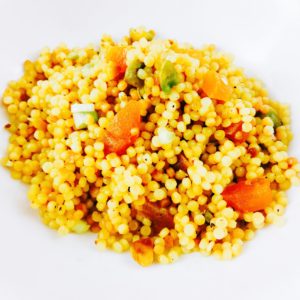 Serves 2
Ingredients
A large glug of olive oil
2 cups pearl couscous
¼ cup roasted shelled unsalted pistachios, coarsely chopped
1 ¼ cups hot water
Salt & pepper to taste
6 dried apricots chopped
2 scallions, sliced
½ teaspoon curry powder
Instructions
Heat the olive oil in a large pan over medium heat. When hot, add the couscous and pistachios and cook, stirring, until toasted and light brown. This should take about 10 minutes. Be careful not to let them burn!
Once toasty, add the curry powder, water, salt and pepper, and bring to the boil. Reduce the heat to a simmer, cover, and cook until the liquid is absorbed, about 10 minutes.
Remove the lid, stir in the apricots and scallions, taste, and adjust the seasoning.
Adapted from 5 Ingredient Fix
Victoria's Kitchen http://kitchenbyvictoria.com/