Tomato Rice with Homemade Meatballs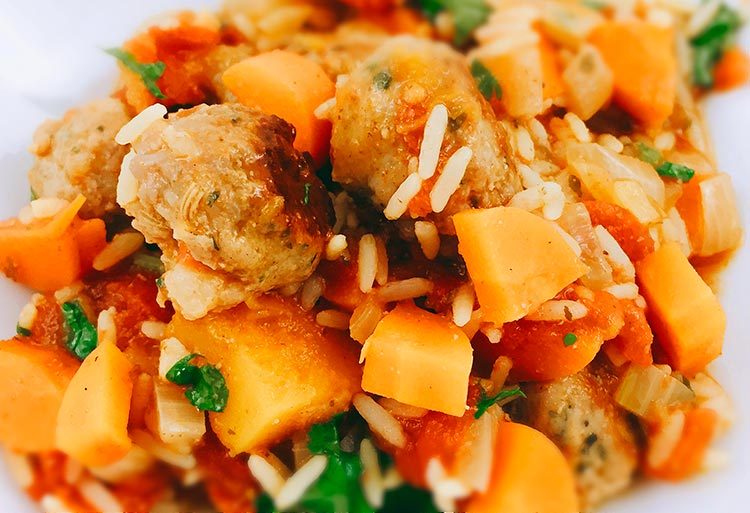 This is a super easy weeknight meal. Don't be turned off by the 'homemade' part of the meatballs, it's really an overstatement, all you need to do is open up some sausages and roll the meat into meatballs.
You can also get totally wild with the vegetables, throw in whatever you have. The only thing that must be in there is the tomatoes, but if you've got leftover green beans on hand or a giant handful of parsley, go go go.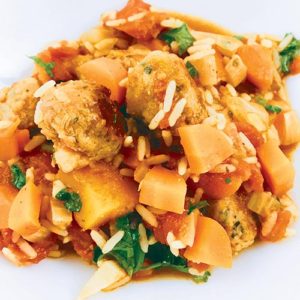 Tomato Rice with Homemade Meatballs
2016-10-02 13:58:14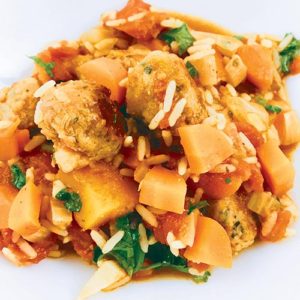 Ingredients
4-6 sausages, your choice, I love Italian sausages with fennel seed
1 small onion
2 carrots
a handful of frozen diced pumpkin or squash
3 garlic cloves, finely hopped
1 teaspoon cumin
1 teaspoon coriander
140g or 3/4 cup long grain rice
850ml vegetable stock
1 400g chopped tomatoes
1 small bunch of coriander
Instructions
Cut the sausage skins open with a knife and peel off. Roll the meat into small meatballs about the size of a large olive. Heat the oil in a large pan, then brown the meatballs well on all sides until cooked. Set aside.
Add the onion and garlic to the pan. Soften for 5 mins, and then stir in the carrots and pumpkin. Mix for another few minutes, and stir in the spices and rice. Cook for 1 more minute and then pour in the stock and tomatoes.
Bring to a simmer, scraping up any bits from the bottom of the pan. Simmer for 10 mins until the rice is just cooked, then stir in the meatballs with some salt and pepper to taste. Ladle into bowls, and scatter with coriander.
Adapted from BBC Good Food
Victoria's Kitchen http://kitchenbyvictoria.com/