Trofie al pesto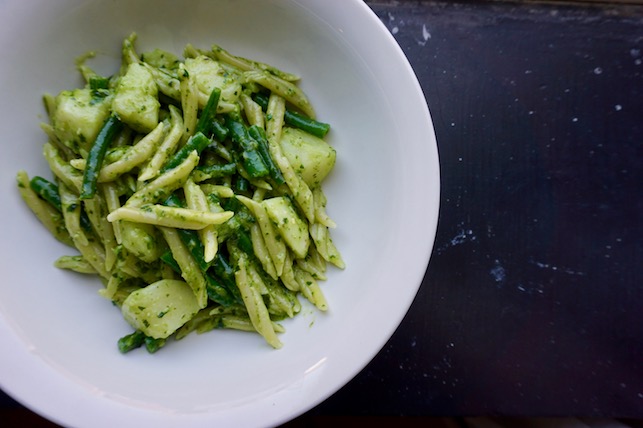 Felix and I went to the Cinque Terre in January, and we couldn't get enough of this. Ate it every day, and brought back loads of trofie only to find that we could buy it here. Do yourself a favour and make this tonight.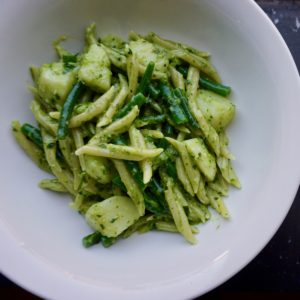 Trofie al pesto
2018-06-27 00:11:11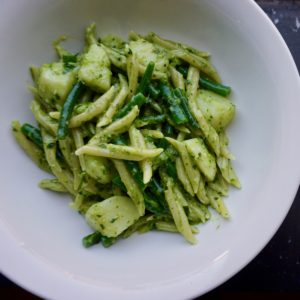 Ingredients
4-5 small potatoes (peeled and cut into small chunks)
1 box of trofie pasta (or any other pasta if you can't find it)
200 grams green beans (trimmed and cut in thirds)
100 grams fresh basil leaves
100 grams grated parmesan cheese
2 cloves garlic
100 ml regular olive oil
100 ml extra virgin olive oil
juice from half a lemon
About a teaspoon of salt (but taste as you go along to be sure your parmesan doesn't make it too salty)
30 grams or a small handful of pine nuts
Instructions
Bring a large pot to boil, and put in the potato chunks.
Put the potato chunks into a large saucepan together with plenty of salt.
Cook the potatoes until tender, about 10-15 minutes, then add the pasta and the green beans. Check the packet cooking instructions.
While this is cooking, blitz the ingredients for the pesto with a hand blender.
Before you drain the saucepan, remove and reserve about ½ cup of the cooking liquid in case you need it to loosen up the pasta (I didn't use it but I always like to know I have it just in case!)
Pour the drained potatoes, beans and pasta back into the dry pan, and add the pesto.
Give it a good stir and if needed add a bit of cooking water. Garnish with a bit of basil and serve immediately.
Victoria's Kitchen http://kitchenbyvictoria.com/