Zoodles with Roasted Whole Tomatoes & Pesto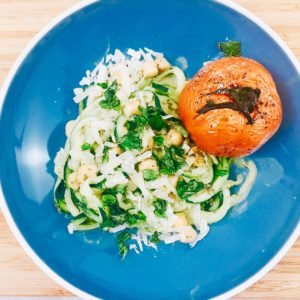 Zoodles with Roasted Whole Tomatoes & Pesto
2017-03-02 15:33:27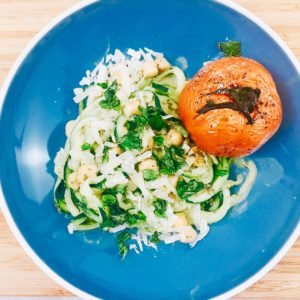 Ingredients
5 large zucchini
Sea salt
1 jar of high quality pesto
1 pound vine-ripened tomatoes, stems attached
2 tablespoons extra virgin olive oil, as needed
2 cloves garlic, minced
1 1/2 cups cooked chickpeas, rinsed and drained
Freshly ground pepper
1/3 cup toasted pine nuts
1 cup basil, julienned
3/4 cup shaved Parmesan Pinch of red pepper flakes Fresh lemon zest, for garnish
Instructions
Preheat the oven to 425 degrees F.
Using a spiraliser, slice the zucchini into noodles. Lay the zucchini "noodles" on a dish towel and sprinkle them with sea salt; let them sweat for about 20 minutes, then blot and gently squeeze out the excess water with the dish towel.
Keeping stems attached, rub the tomatoes with a thin coat of oil and a sprinkle of salt and pepper. Roast them on a rimmed baking sheet for 10 to 12 minutes until they just begin to collapse.
In your largest frying pan over medium heat, warm the olive oil. Add the garlic and saute for 1 minute until fragrant. Add the white beans, a hearty pinch of salt and pepper, and saute just to warm through. Add the zucchini and gently saute for 5 to 6 minutes until warmed (too long and they'll get soggy). Gently toss them in 1/3 cup of the pesto (add more to taste) and half of the pine nuts, basil, and Parmesan.
Serve each bowl with a generous garnish of Parmesan, a pinch of red pepper flakes and a fresh grate of lemon zest. Serve the tomatoes alongside the noodles.
Victoria's Kitchen http://kitchenbyvictoria.com/
Obviously, this would be more delicious with homemade pesto. No one is contesting that. But the reality is not everyone has that much time on their hands, and this version is easy and just as healthy.
All you need is a spiraliser to make the zucchini into noodle shape. Alternatively you can always pop to Marks & Spencer where they sell pre-spiralised zucchinis.
This recipe is based on one from the Sprouted Kitchen, but now that I didn't make my own pesto, it doesn't bear enough resemblance to say it's the same recipe!